Welcome to the new Solihull Barons Supporters Club.
Here you can find details and information regarding merchandise, events and competitions.
Please contact us if you are interested in sponsoring the man of the match award at a home game this season.
We have some new match night competitions so make sure you buy our new look programme on Sunday to find out more about these.
We will be at every home game throughout the season and probably many away games too!
Come and see us at the table on match nights for any further information or email us at solihullbaronssc@gmail.com
---
We do have something new that we need your help with, there is a new member of the team and he needs naming!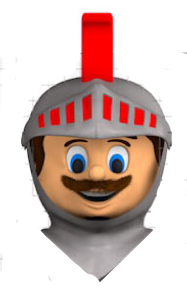 The Barons have a new mascot and he needs your help. We need you to name him, please take a look at the picture below and email us with your ideas.
We are also looking for a volunteer to be the mascot for the season. You must have a good sense of humour, be able to skate and the ability to interact with the fans. If you feel that you would like to give this a go please email us!
We look forward to hearing from you.