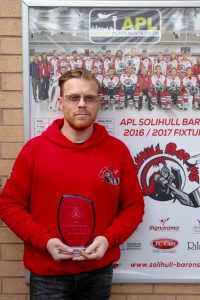 As you may be aware, the APL Solihull Barons were awarded the "Organisation of the Year" award this season. This was awarded by the other teams in the league based on the following criteria:
– reception and welcome provided by the rink
– friendliness of the club
– facilities of the rink
– opposition fans
In a series of articles over the summer, we will be going around some of our off-ice volunteers and sponsors and thanking them for all that they have done.
First up is Lewis Smith.
Lewis will be known by most supporters as the guy that gets all the signage done – barrier wraps; sponsorship boards etc – and produces the content of the programs (along with Denise Crowe). Basically, anything that you see with the Barons name and logo on it is down to Lewis as he created the new logo and branding.
Not surprisingly, Lewis is a graphic artist by trade and works for Signarama (opposite the Wheatsheaf pub at the bottom of Hobs Moat Road). He makes a good cup of coffee as well.
He works 10 hours a week just on the programs in addition to the work he does on the signage. He has also helped recently with the promotional material on our recent free family skate sessions and learn to play hockey initiatives that have started in May.
Lewis started skating at 15 and has known Bob (Zamboni) and Eileen (box office) since then….which is quite a few years ago….and has been a steward in the 1990s at MK Kings games and more recently at the infamous foam parties
He has also been a season ticket holder in the past for the Coventry Blaze
His wife, Kerry, is also a sponsor of the Barons and is regularly down at games as well.
It is thanks to Barons equipment manager, Gary Rogers (who we will be interviewing at a later date) approaching Signarama regarding sponsorship two seasons ago that Lewis is now part of the Barons community.
So, hopefully you all know Lewis a bit better now and can appreciate all the hard work that he puts in to make our match nights what they are. If you see Lewis at a game – go and say hello – he is a really nice guy as well!
Thanks for all you do Lewis !