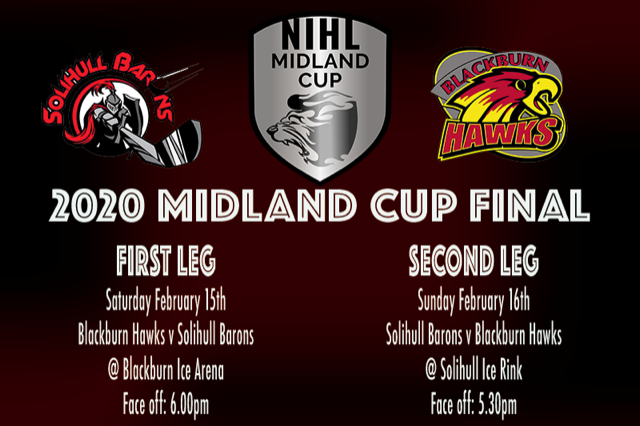 Solihull Barons will take on Blackburn Hawks next month for the first silverware of the season in the Midland Cup Final.
Top seeded Solihull saw off Nottingham Lions 5-1 in a single-leg tie on Sunday night to book their place in the Final.
Blackburn, who finished third in the qualifying group, upset second seed Sutton Sting winning both legs for a 10-6 aggregate scoreline.
The Final will take place over the weekend of February 15-16, a two-legged aggregate tie with overtime and penalty shots in the second leg if necessary.
Blackburn are the home team on Saturday February 15, facing off at 6pm at Blackburn Ice Arena. Ticket information can be found at www.blackburnhawks.com.
The second and deciding leg will be at Hobs Moat Road on Sunday February 16 with a 5.30pm puck drop. For ticket details visit www.solihull-barons.net.
A spokesman for the NIHL management group said: "The season is reaching its business end and this Midland Cup Final is the start of a series of set piece events for the league, running up to the end of regular season into the playoffs.
"We are delighted to have the Midland Cups set and both clubs will be fantastic hosts for the occasion. Solihull have had a great season, winning against the league leaders and sitting in third place in the league. Blackburn have come good in recent weeks and played very well on both nights last week to defeat Sutton Sting in their semi final.
"The management group are looking forward to the Final next month kicking off the run-in to the end of the season.
"We wish both teams well and hope the clubs and their supporters have a weekend to remember."
For more information on the National Ice Hockey League visit www.eiha.co.uk/nihl or follow @NIHLhockey on Twitter.