7
-
3

Recap
The TC Cars Solihull Barons put in a very impressive team performance against the Whitley Warriors on Saturday evening to bring home the points in an important mid-table clash.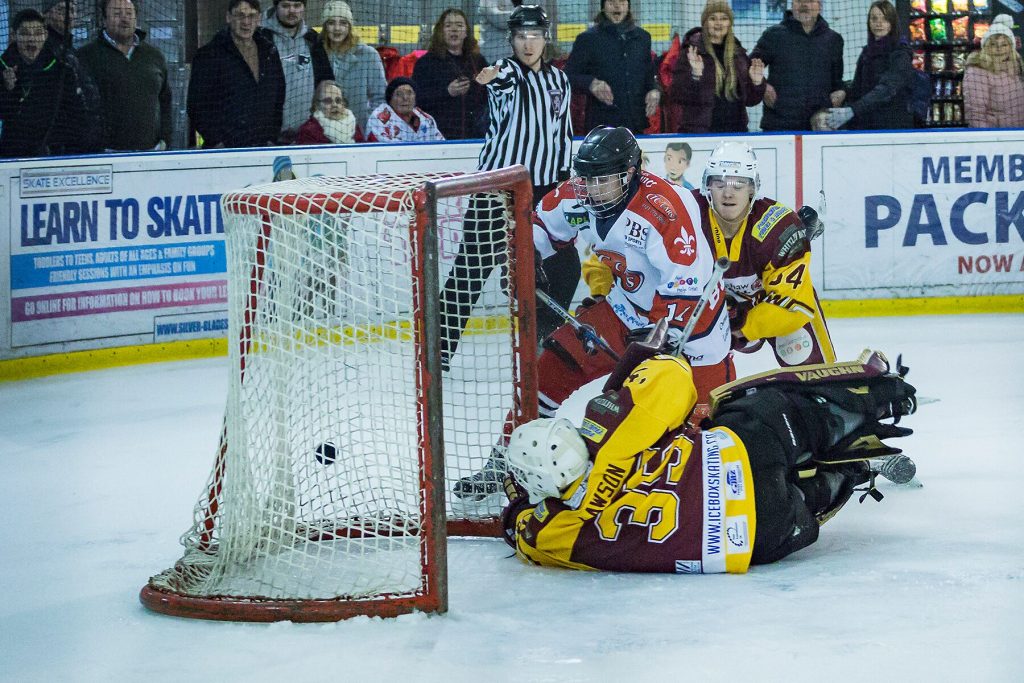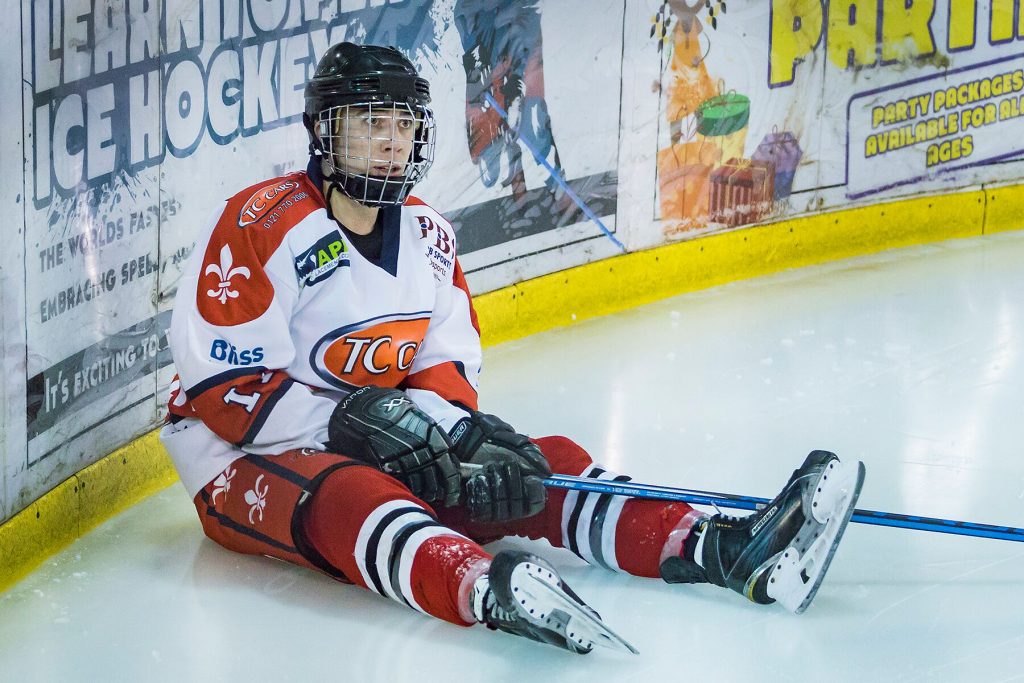 The Solihull fans did not have to wait long to see their side take a lead they would never loose, Josh Bruce making no mistakes less than two minutes into the game with a shot to the top left of the Whitley net. Short of fourteen minutes a penalty killing Solihull eased out their lead when a break away run by Luke Brittle was thwarted by David Longstaff hooking the Barons forward to set up a penalty shot which was confidently slotted home by Brittle. By the end of the period Solihull were three up with arguably the goal of the night, Adam Brittle clearing the puck from the Barons end to Ed Eaton loitering near the Whitley blue line who skated in on the Warriors goal. His initial shot was parried, but Eaton deftly picked up the rebound, and rounded Richie Lawson in the Whitley net for goal number 3.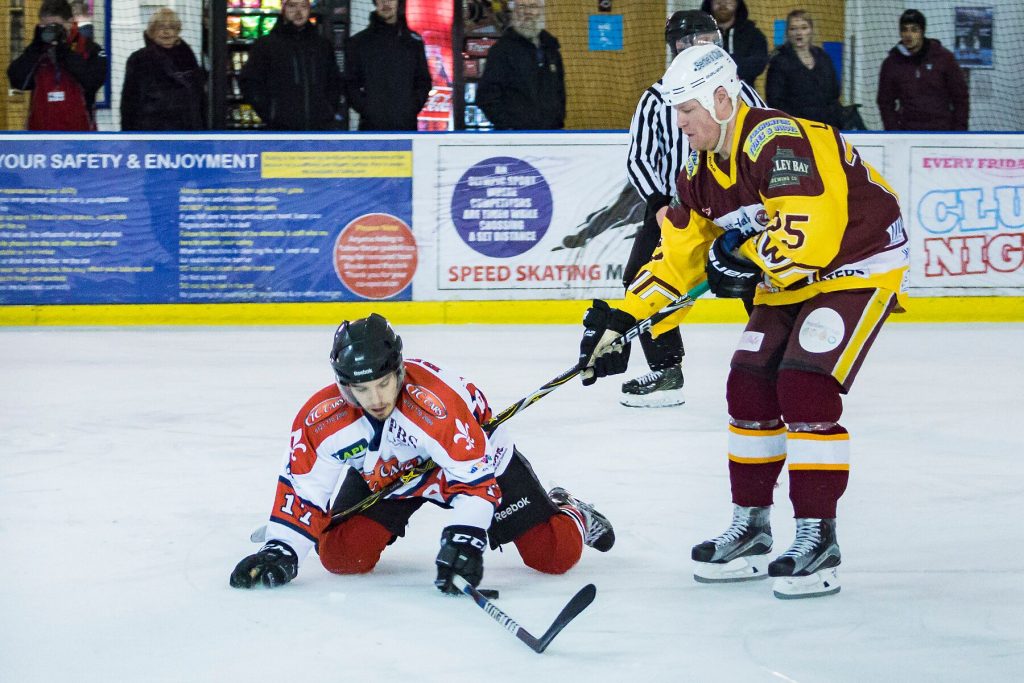 By the second period the visitors stepped onto the ice with more intent and the Warriors efforts put them on the scoreboard just before the halfway point in the game, Phillip Edgar finding the back of the Solihull net. Five minutes later and Elliott Farrell gave the Barons back their three goal buffer but by period end the Warriors were back in reach, Phillip Edgar once more for the visitors.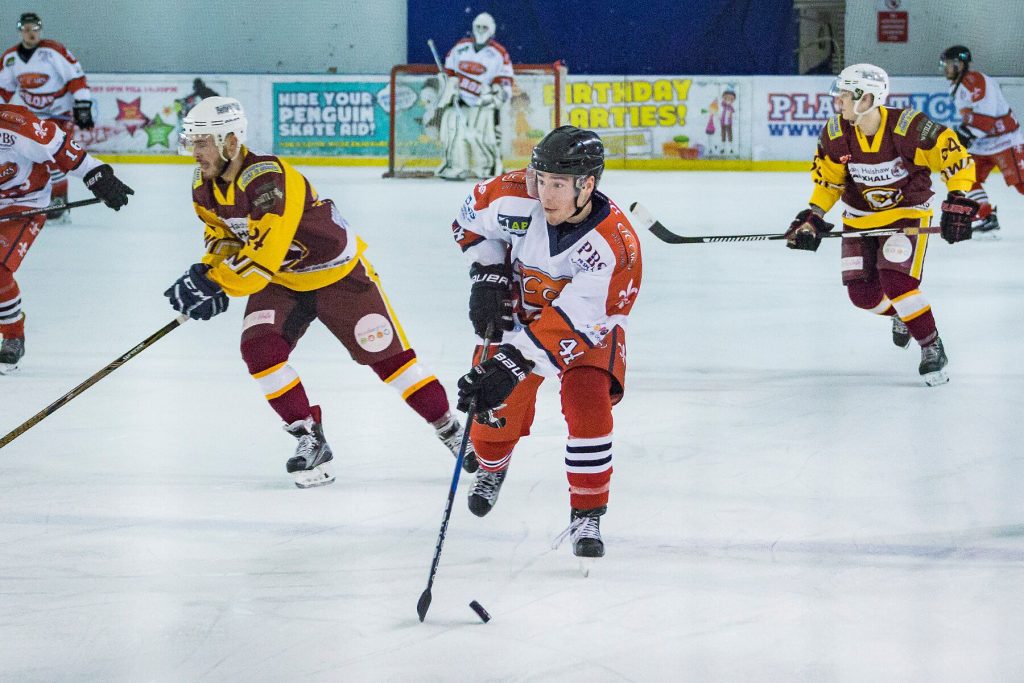 The final period gave the Barons a chance to seal the victory and it was duly taken. Tom Soar gave the Barons back their three goal buffer five minutes in and while Whitley rapidly countered to pull the margin back to two goals – Edgar with his hat-trick, the clock was running against the visitors and when Matt Maurice took a sweet shot at goal to net the Barons sixth with ten minutes to go the Warriors frustrations began to show giving Solihull a fairly easy final run to the buzzer and the points. The game was capped by a lovely Luke Brittle effort with a minute left on the clock to give Solihull seven goals in a very impressive and controlled 60 minutes.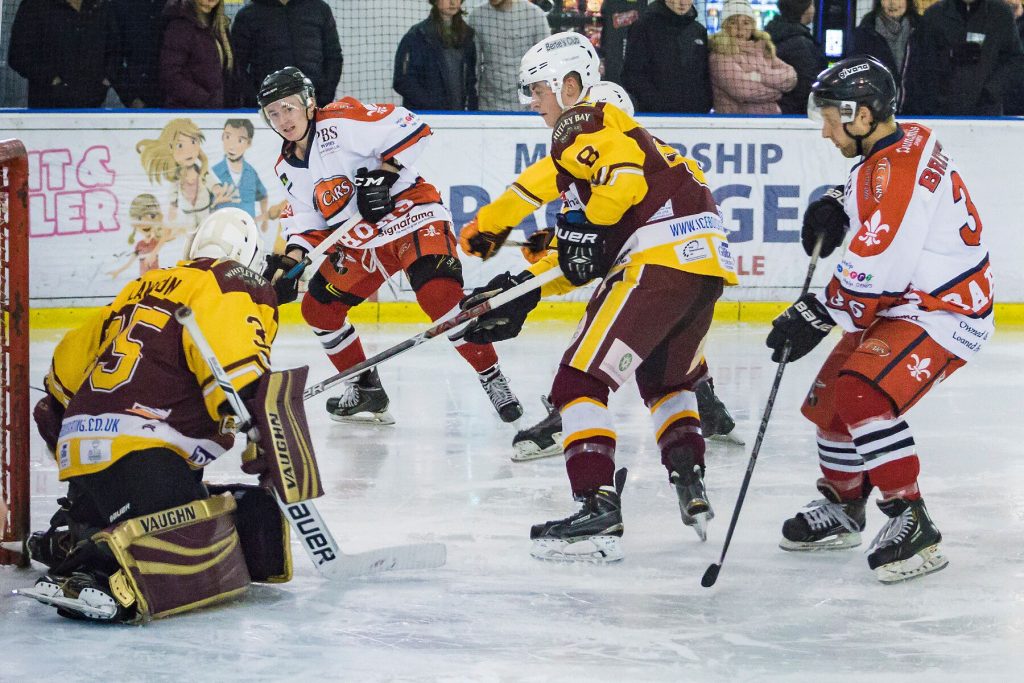 The Barons will be hoping for more of the same on Sunday when they welcome the league's second placed side, the Sheffield Steeldogs to Hobs Moat. Face off 6:00pm.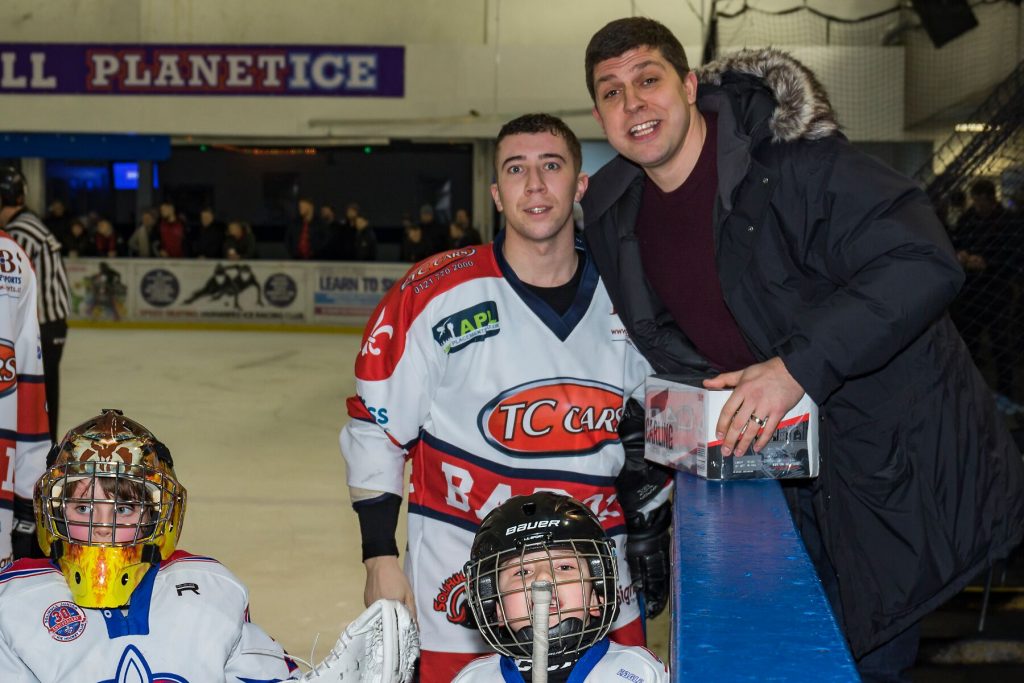 BARONS MAN OF THE MATCH : ED EATON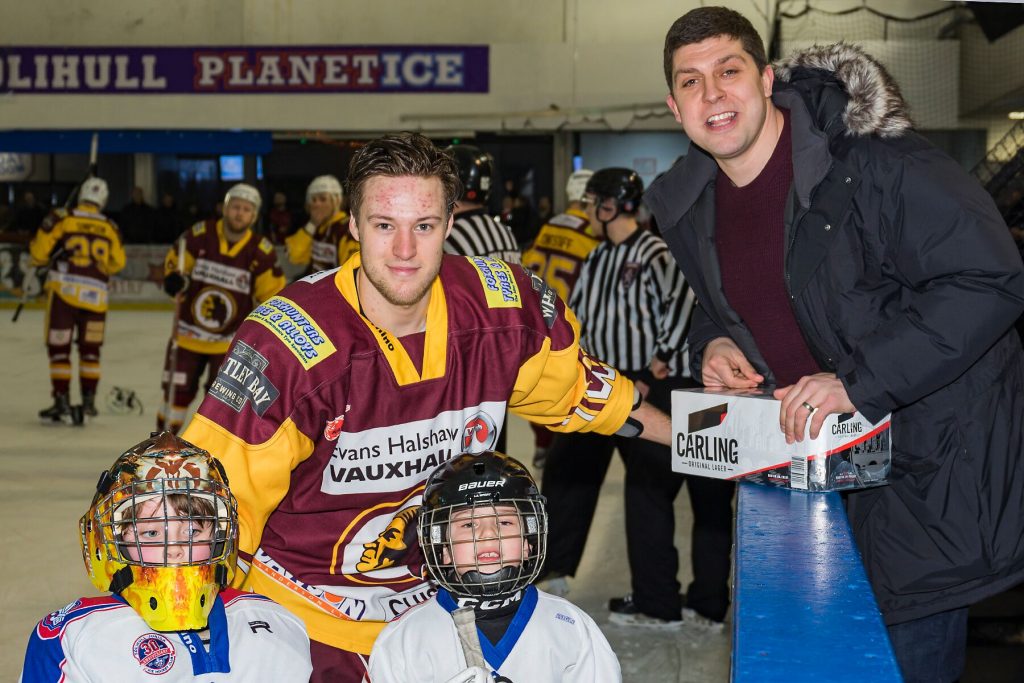 WARRIORS MAN OF THE MATCH : PHILIP EDGAR
Man of the Match awards sponsored by TC Cars Limited and presented by former Barons Captain Rob Eley.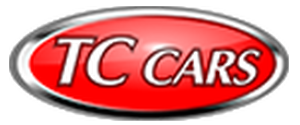 ---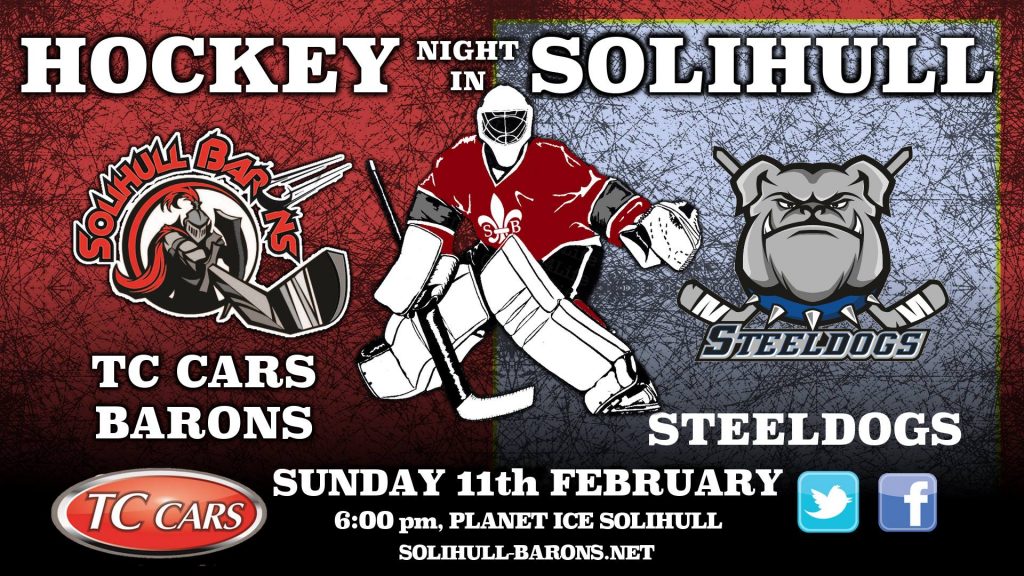 Details
| Date | Time | League | Season |
| --- | --- | --- | --- |
| February 10, 2018 | 5:00 pm | Moralee Division | 2017/18 |
Results
| | | | | |
| --- | --- | --- | --- | --- |
| Solihull Barons | 3 | 1 | 3 | 7 |
| Whitley Warriors | 0 | 2 | 1 | 3 |
Whitley Warriors
| Position | G | A | PIM | SA | GA | SV |
| --- | --- | --- | --- | --- | --- | --- |
| | 3 | 6 | 24 | 40 | 7 | 33 |