4
-
9

Recap
TC Cars Solihull Barons : 4
Telford Tigers : 9
The TC Cars Solihull Barons showed spells of flair in Saturday's tie against the Telford Tigers but could not match the Shropshire side over the full 60.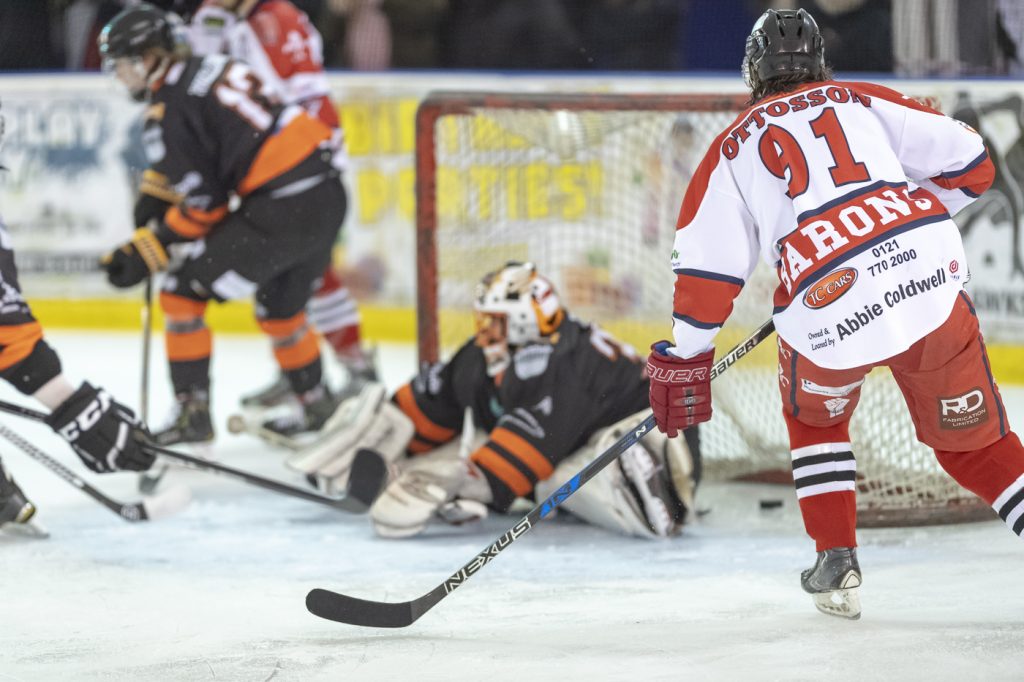 The Barons were first to put the puck into the net after four minutes as they made the most of a powerplay and the man advantage to tic tac the puck between Niklas Ottosson and Luke Brittle before leaving the finishing touch to Luke Brittle to give Solihull an early lead. The Tigers pegged things back within a couple of minutes as they made the most of their own powerplay, the skating maple tree that is Doug Clarkson getting the mark in his goals column. Solihull were quickly back in the lead as Niklas Ottosson tapped in an easy shot on the back post beyond a prostrate and otherwise committed Denis Bell in the Tigers net. The Barons lead held until the final few minutes of the period before Clarkson and joseph Hazeldine added late period goals to give the visitors the scoring advantage heading to the dressing room.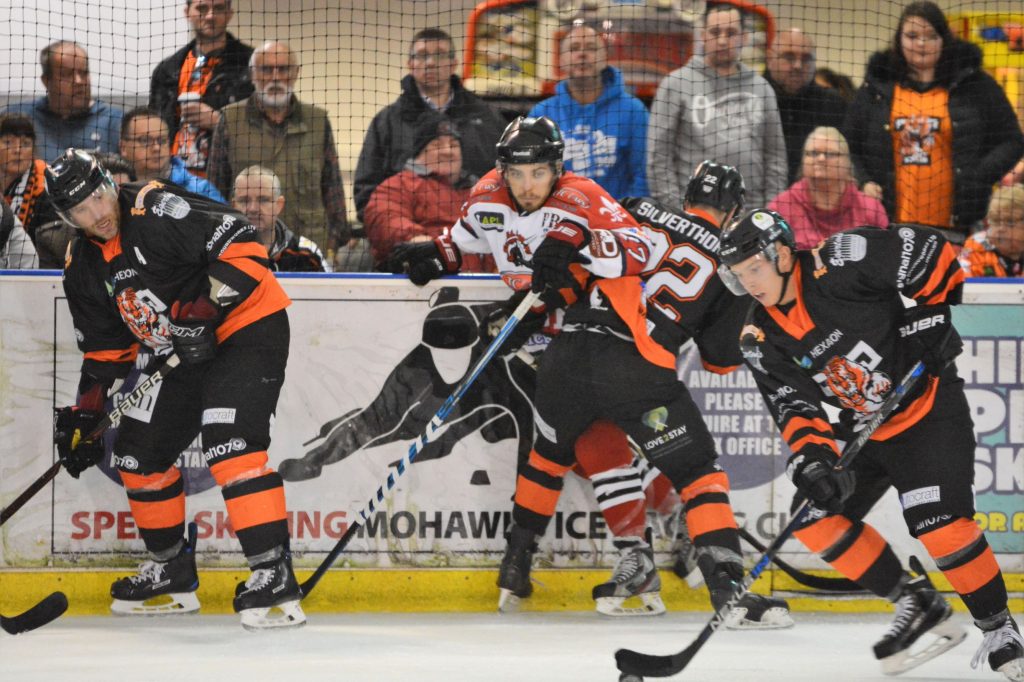 The middle period was all Tigers as Solihull struggled to clear their lines or exert any form of offensive purchase on Telford. The dominance of the visitors was duly rewarded through the middle twenty minutes with a trio of goals courtesy of Adam Taylor, Joseph Hazeldine and Andrew McKinney.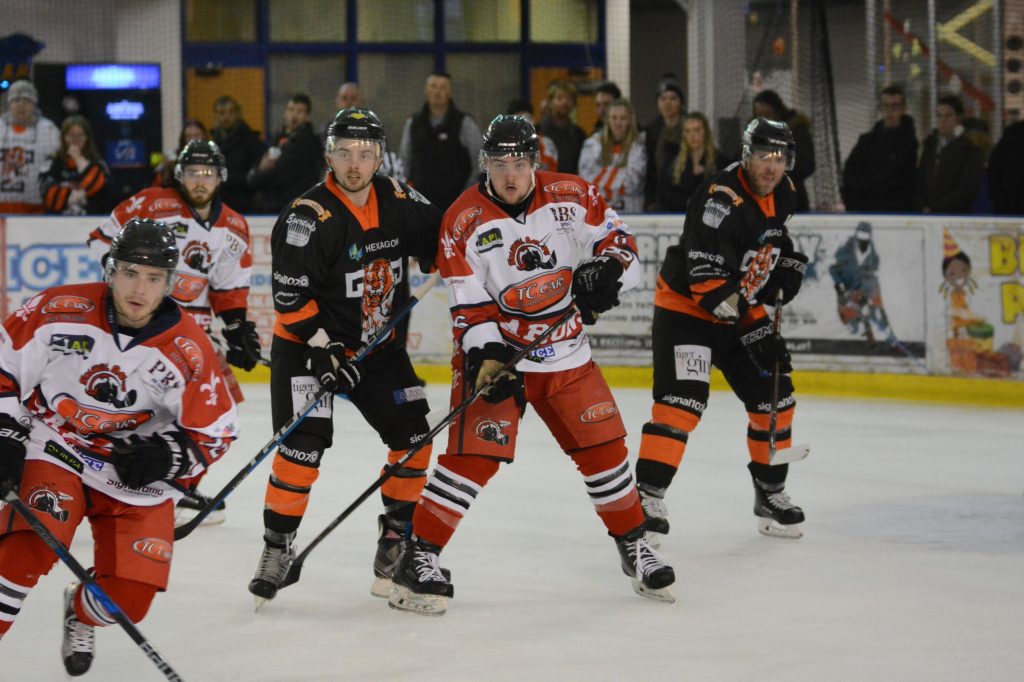 The final period began with the Tigers quickly tapping in another couple of goals to give the visitors a six goal cushion. This seemed to spark the Barons back into life as Solihull posed a few more questions of the Tigers defence and they were rewarded with a pair of sweet goals. The first of these saw Dave Rogers steal the puck deep in the Barons own end before skating the length of the rink and fooling Denis Bell for the Barons third at the fifty minute mark. The Tigers would strike back once more before Luke Brittle scored with a neat effort, rounding the back of theTigers net before wrapping round the nearside post for Solihull's final goal.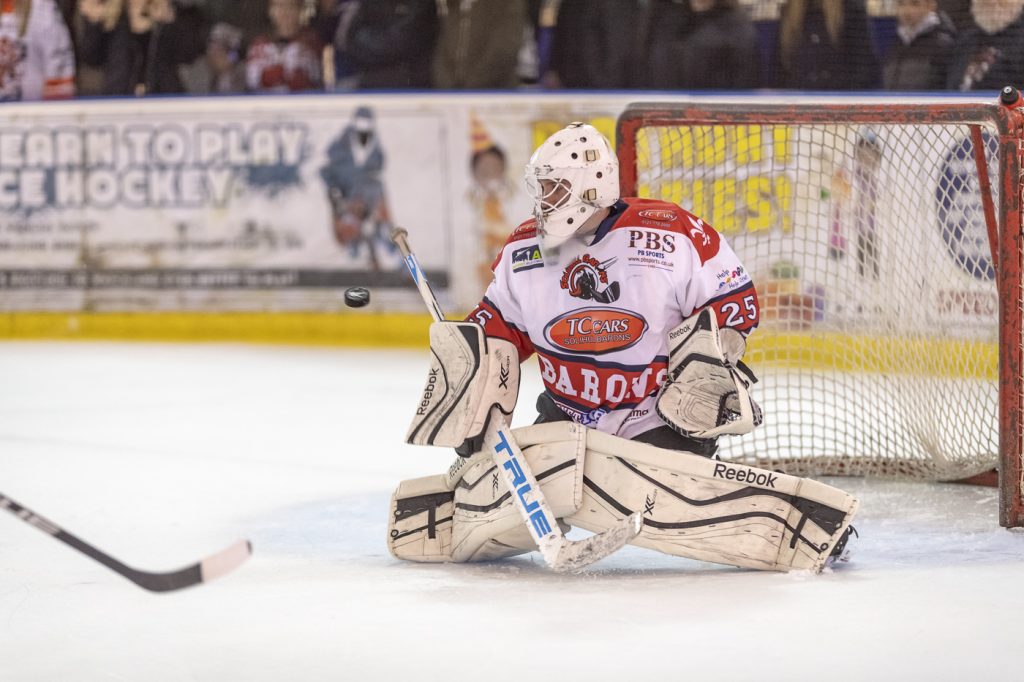 The Barons head up to Whitley Bay next Sunday to take on the Whitley Warriors for the second time this season, the Barons edging it at home back in September. This is followed by an away trip to take on Sheffield based Sutton Sting the following Saturday before coming back to home ice on Sunday the 4th of November. That day they will host the well drilled Solway Sharks who will be making the long trip down from Dumfries. Face-off 6:00pm.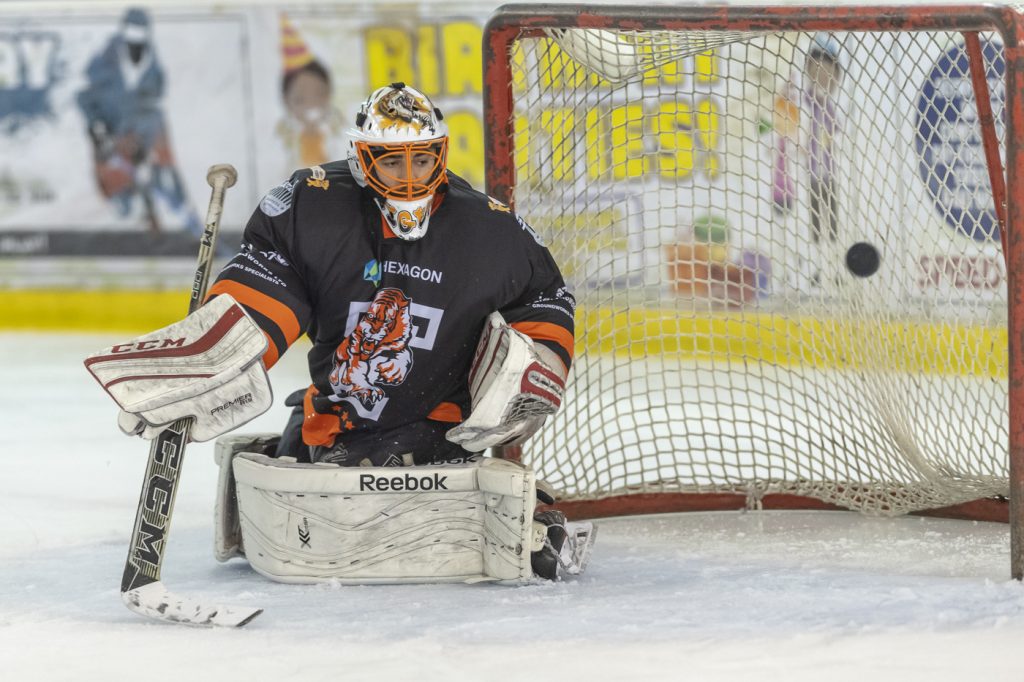 Barons Man of the Match Niklas Ottosson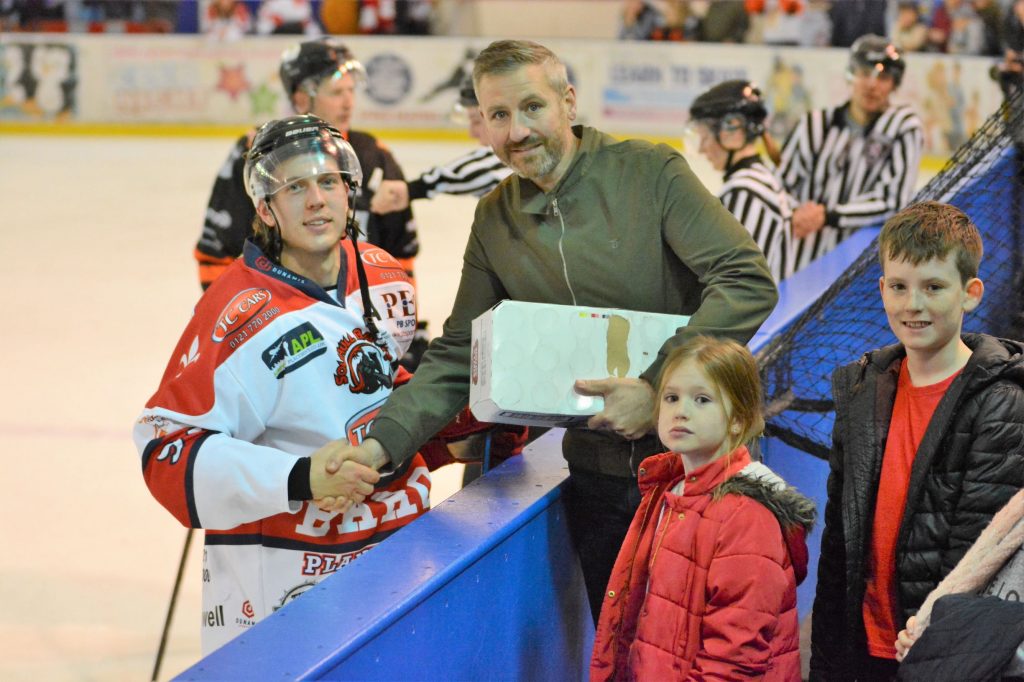 Tigers Man of the Match Matthew Price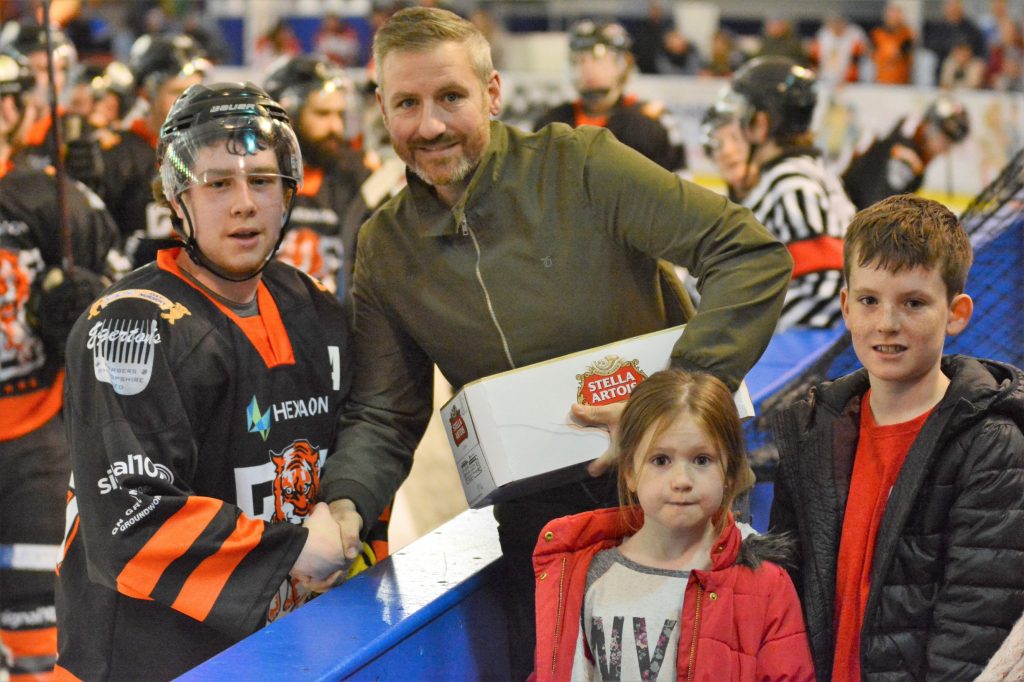 ---
Next Home Game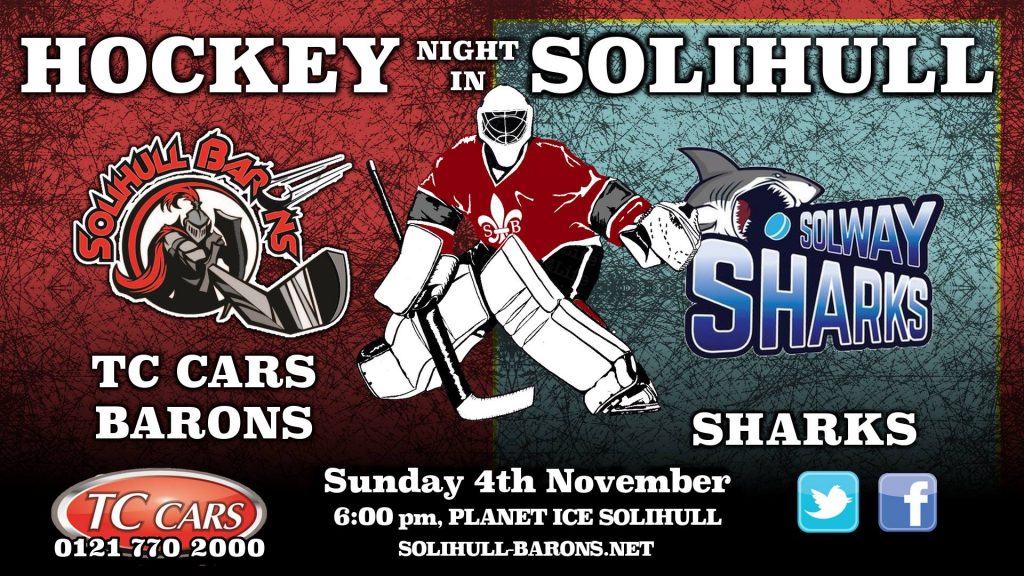 Details
| Date | Time | League | Season |
| --- | --- | --- | --- |
| October 20, 2018 | 5:15 pm | Moralee Division | 2018/19 |
Results
| | | | | |
| --- | --- | --- | --- | --- |
| Solihull Barons | 2 | 0 | 2 | 4 |
| Telford Tigers N1 | 3 | 3 | 3 | 9 |
Telford Tigers N1
| Position | G | A | PIM | SA | GA | SV |
| --- | --- | --- | --- | --- | --- | --- |
| | 9 | 17 | 6 | 29 | 4 | 25 |