5
-
3

Recap
With Saturday's first leg quarter final at Solway leaving the sides tied on 4 goals apiece, Sunday's tie was to be a winner takes all decider – the victors heading to the semi-finals, the losers left to put away their hockey gear for another year and dig out their best golfing slacks. With this in mind the sides took to the ice at Solihull with the intention to make sure their season would not end over the weekend and prove themselves the best of the old school national league sides.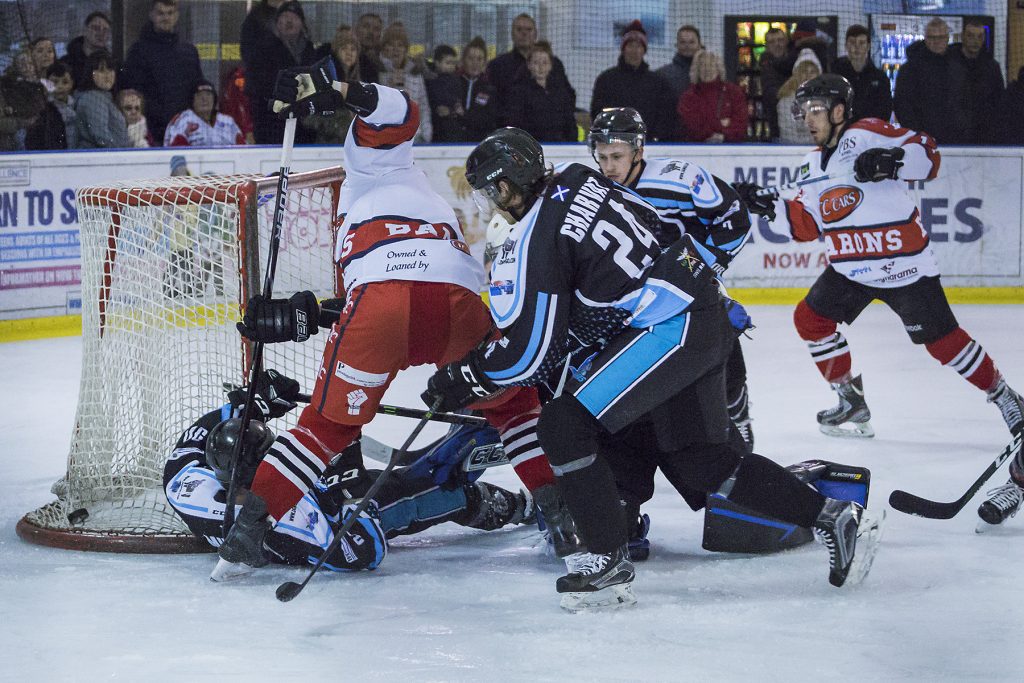 With such high stakes it was the Barons who laid their cards on the table after four minutes as Luke Brittle, Ed Eaton and Niklas Ottosson executed a training night special, crossing the puck over the Solway crease two times before Ottosson fired into the Sharks net. Solihull doubled their lead midway through the period with a Tom Soar effort on the powerplay as the Barons forward shot low and through the legs of Calum Hepburn in the Solway net for goal number 2.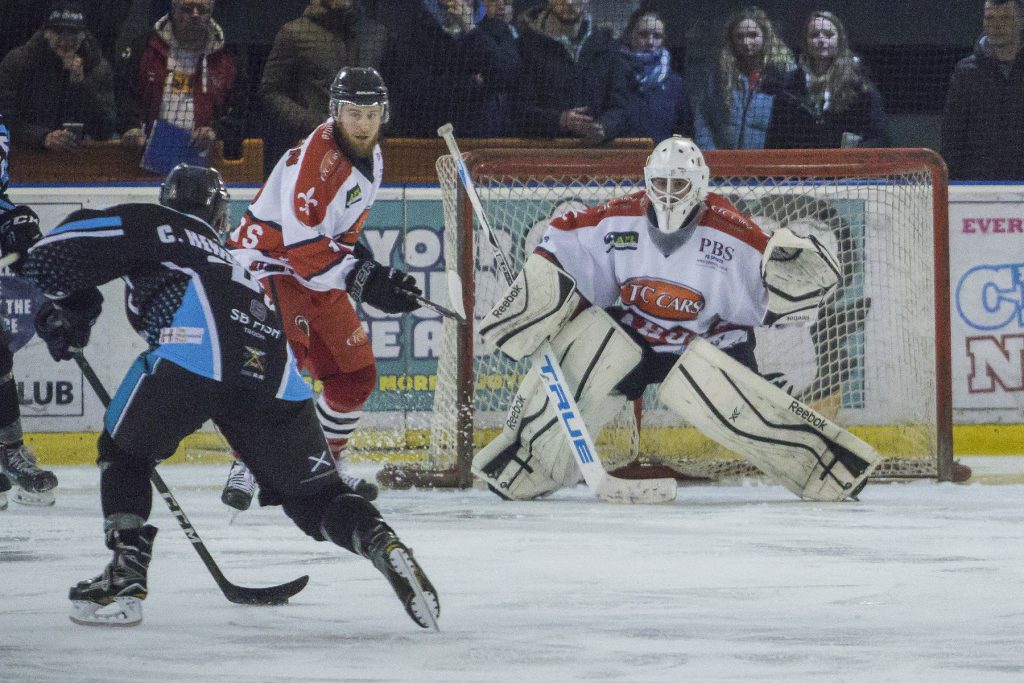 Emerging from the dressing room for period 2 with some extra impetus Solway quickly got their reward, Marek Charvat pouncing on a puck pinballing off of skates, sticks and pads around the Solihull crease for the visitors opening goal five minutes in. The Barons were however able to counter immediately, Luke Brittle firing in within less than a minute, restoring the Barons two goal cushion. This would be padded further by Tomas Janak with a neat solo effort on 36 minutes. The Barons 'A' forcing a turnover mid ice, skating into the Sharks end and scoring in off the Solway crossbar with a carefully taken shot. Duncan Spiers however kept the visitors in reach with his own precisely taken goal, a well aimed effort from the right hand boards to see the sides head to the final 20 split by two goals.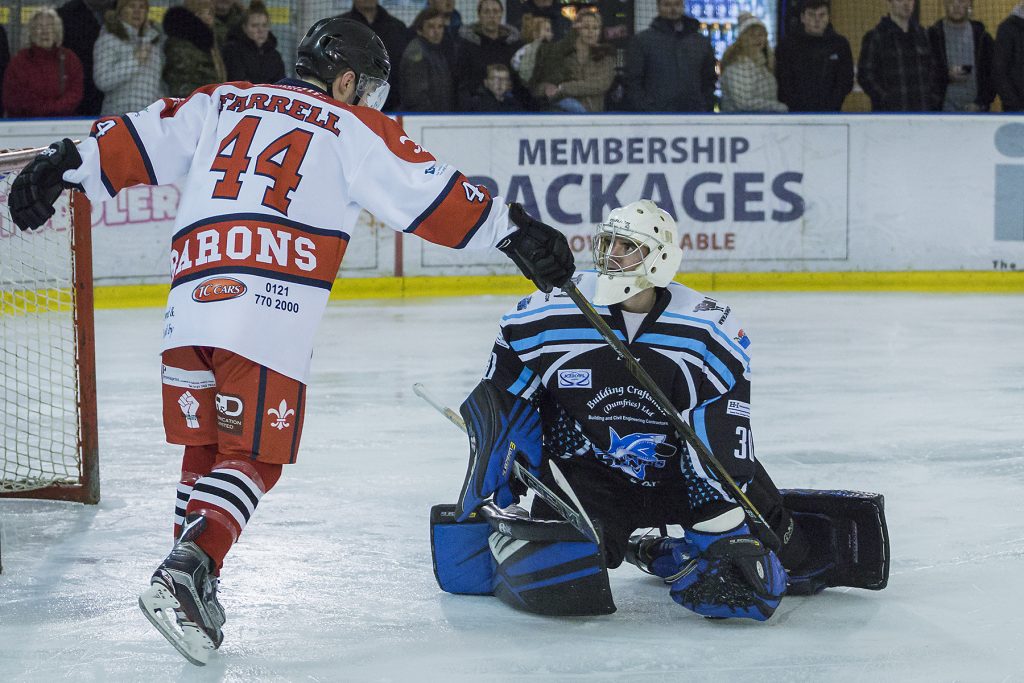 Again the Sharks were quickly into their stride following the break with a Scott Henderson dash up the left wing a minute in and a clinical shot past Dangy Brittle in the Solihull net to peg the Barons back to a single goal advantage. But, and as before, the visitor's had little opportunity to exploit the narrowed deficit with Josh Bruce getting the Barons fifth goal off the restart, sealing the victory and the trip into the Semi-finals for Solihull.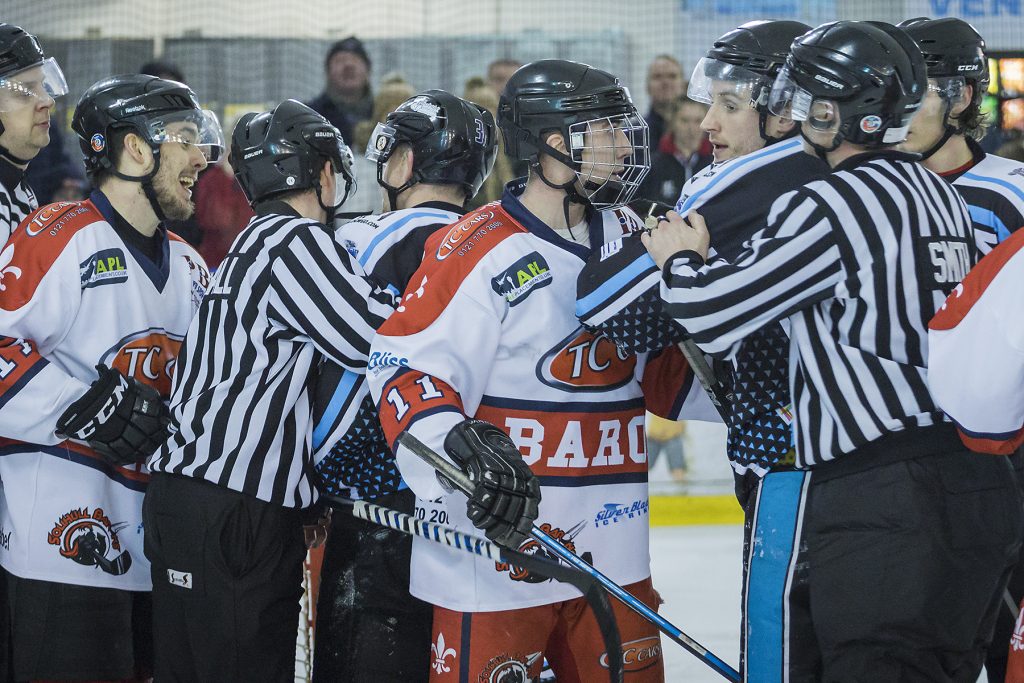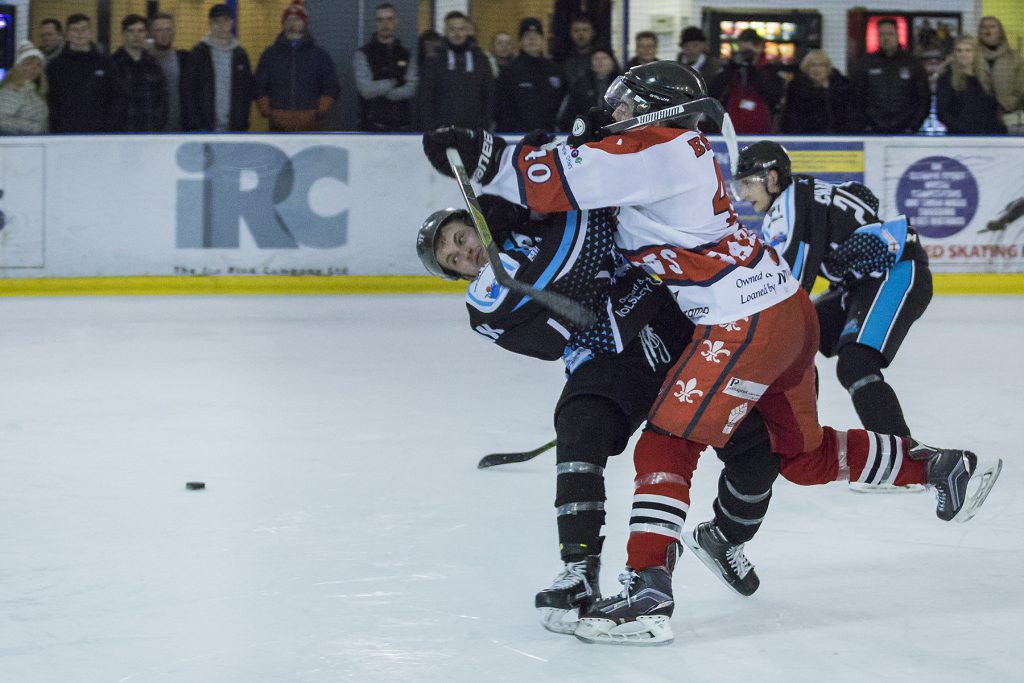 The Barons will now face, league champions, the Sheffield Steeldogs in a two leg semi-final this weekend. While Solihull have struggled against the Yorkshire side this season, play-off hockey is unpredictable and while certainly not favourites the Barons have a very real opportunity to cause an upset.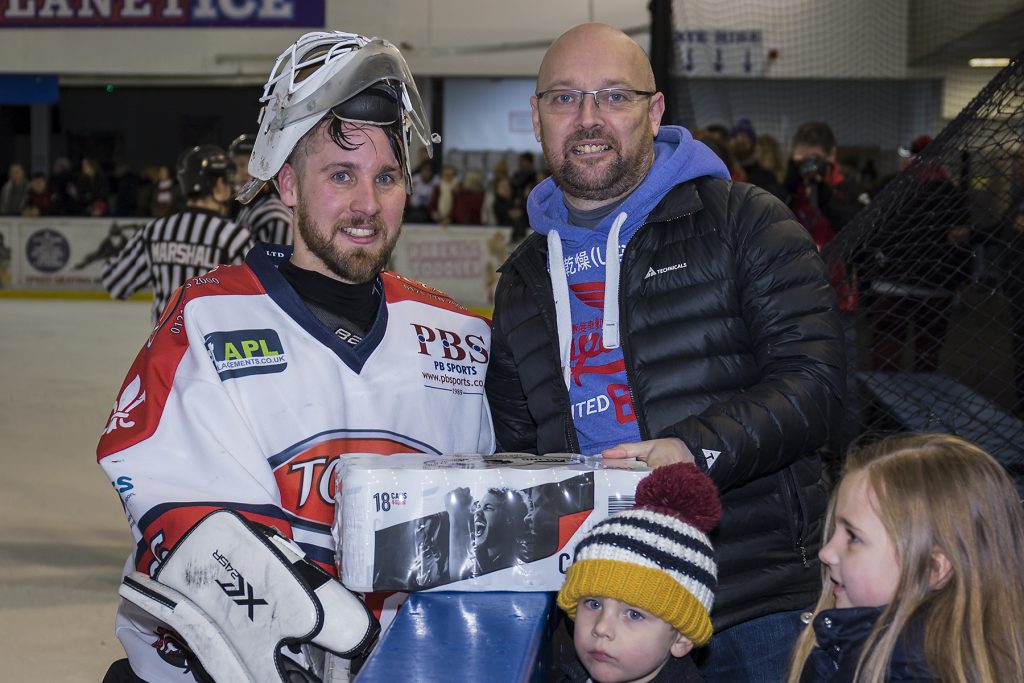 Barons Man of the Match : Daniel Brittle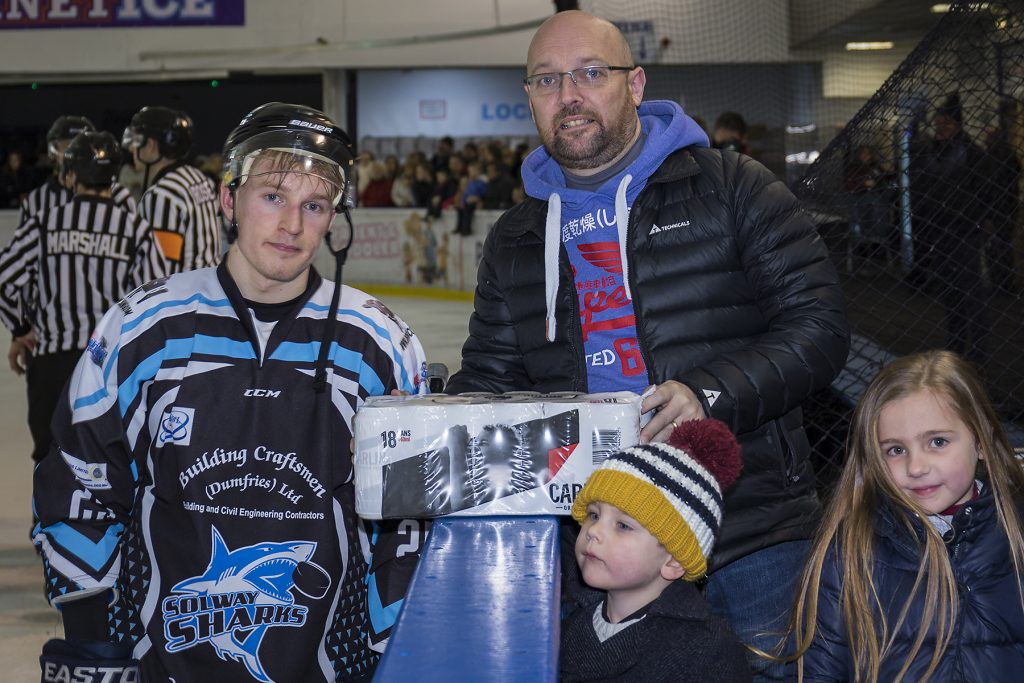 Sharks Man of the Match : Connor Henderson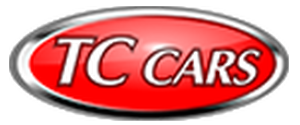 Man of the Match Awards Sponsored by TC Cars

---
The BIG one !!!
This Saturday
Moralee Division Play-off Semi-final 1st leg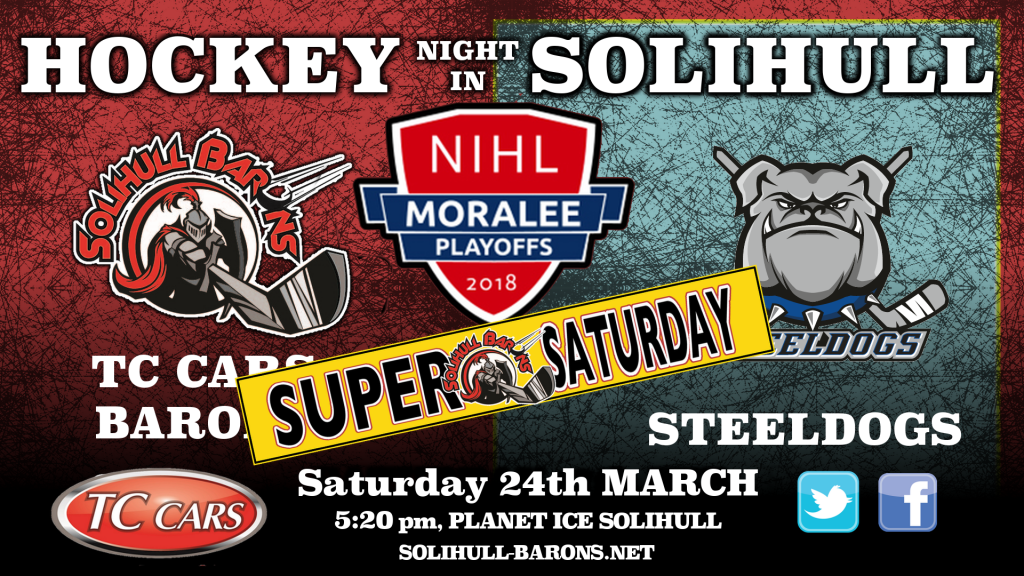 Details
| Date | Time | League | Season |
| --- | --- | --- | --- |
| March 18, 2018 | 6:00 pm | Moralee Division | 2017/18 |
Results
| | | | | |
| --- | --- | --- | --- | --- |
| TC Cars Solihull Barons | 2 | 2 | 1 | 5 |
| Solway Sharks | 0 | 2 | 1 | 3 |
Solway Sharks
| Position | G | A | PIM | SA | GA | SV |
| --- | --- | --- | --- | --- | --- | --- |
| | 3 | 4 | 8 | 42 | 5 | 37 |