10
-
1

Recap
The Airport Placements Limited Solihull Barons got their pre-season off to a strong start with a convincing win over league new-boys, but old rivals, the Deeside Dragons on Sunday evening.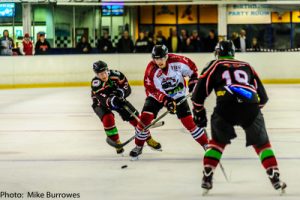 It would be a 4 goal evening for Tom Soar (Mike Burrowes)
The first period had both sides fairly evenly matched, the visitors opening just shy of ten minutes courtesy of player coach, Scott McKenzie. By 15 minutes, the Barons had brought things back evening, the prolific Tom Soar netting for Solihull.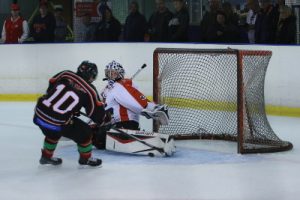 Sam Hewitt kicks a leg out to deny the Dragons (Steve Crampton)
By the second period however the Barons had started to find their form, Tom Soar, Niklas Ottosson, Joe Henry and Dave Rogers opening up a clear gap between the two sides. The final period would have the Barons further extend their lead, Soar netting twice more alongside Josh Bruce, Andy Whitehouse and the returning Richard Slater.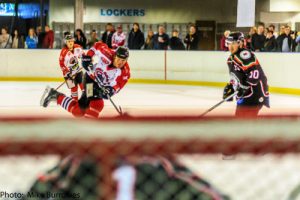 Perry hadn't intended to ice put made a late call to lace up the skates (Mike Burrowes)
A convincing win for the Barons, though the Dragons will be a somewhat tougher prospect in the league proper as key players return and the systems of new coach Scott McKenzie hit home. For the Barons a reassurance that their high scoring play from last year looks solid once more and that the strong roster from last season has returned with a few additions, fit and hungry for a new season.
Rich Slater celebrates a goal on his return to the Barons (Steve Crampton)
The Barons are back in action on Sunday evening when they face local rivals the Telford Tigers in the final pre-season tie before the league proper starts. The Tigers has a solid season last year but have made a number of high profile signings over the Summer and will be a team to challenge at the upper end of the Moralee division this season. face-off : 6:00pm.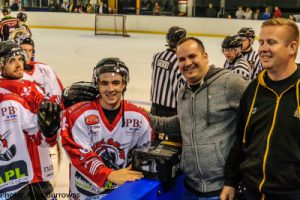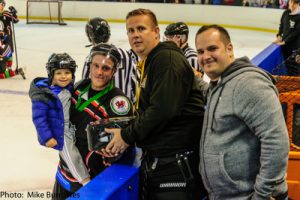 Man of the Match Awards sponsored by the Barons Supporters Club

Details
| Date | Time | League | Season |
| --- | --- | --- | --- |
| August 21, 2016 | 6:30 pm | Friendlies & Challenges | 2016/17 |
Results
| | | | | |
| --- | --- | --- | --- | --- |
| TC Cars Solihull Barons | 1 | 4 | 5 | 10 |
| The Dragons | 1 | 0 | 0 | 1 |
The Dragons
| Position | G | A | PIM | SA | GA | SV |
| --- | --- | --- | --- | --- | --- | --- |
| | 1 | 2 | 4 | 0 | 0 | 0 |