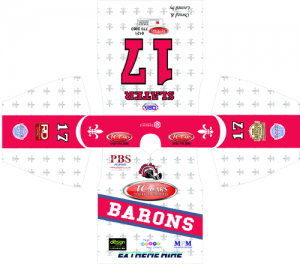 Hi Barons fans, especially those of you who supported the TC Cars Solihull Barons who purchased Own and Loan shirts last season. Your support is much appreciated as the opportunity for the Barons to have new shirts each year means we can recognise our sponsors whilst ensuring the team always looks the part out on the ice.
We have had a few queries about when you will be getting your shirts. As you will appreciate the restrictions around the COVID-19 pandemic is giving us a few challenges. Rest assured your shirts are being safely stored at this time but given the current social distancing measures we are not in a position to get them to you at this present time.
Our plan is to wait until such time that we can arrange an event where you will be able to receive your shirts from the player you sponsored and this is likely to part of a meet the players for the start of next season and I will provide an update on this when there are changes to the social distancing rules.
In the meantime we will, over the next few weeks, be publishing your own personal Own & Loan Certificate of Authentication on the Own & Loan page of the Barons website as per the example below.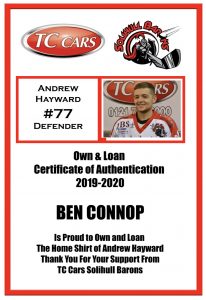 If you have any queries about this, please email the Barons at solihullbarons@gmail.com .
David Hayward
TC Cars Solihull Barons Chairman