9
-
0

Recap
TC Cars Solihull Barons : 9
Nottingham Lions : 0
EIHA Moralee Division
The TC cars Solihull Barons took a while to hit their stride against a young and short benched Nottingham Lions but once up to speed and having broken the initially solid Lions defences the result was never in doubt.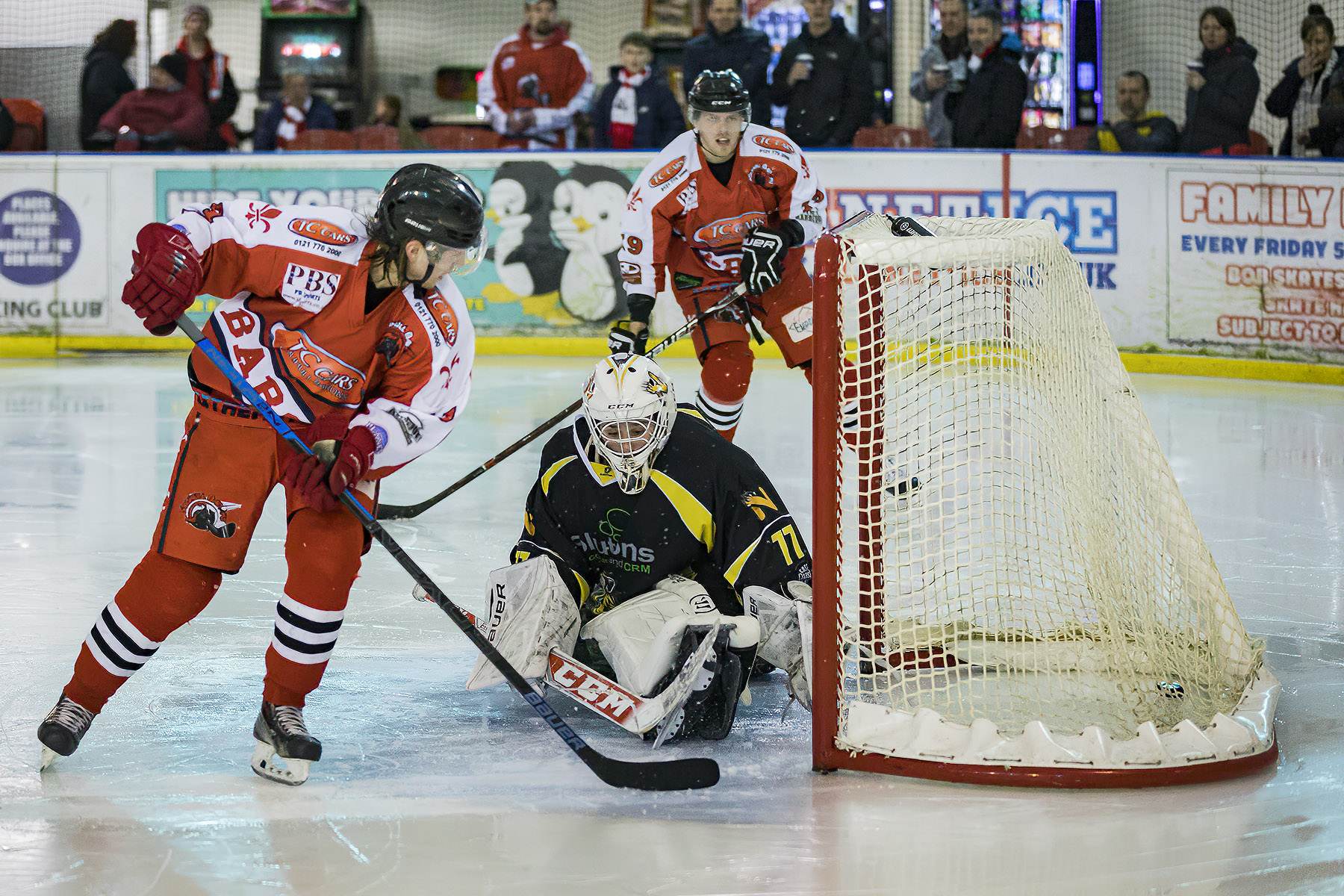 It would take until the 17th minute for Solihull to open the scoring when a blend of hustle and tic tac toe passing  between Adam Brittle and the Mulcahy brothers saw the former find the net. Off the restart, the Lions were adjudged to have had a player pulled down when clear through on goal. The resulting penalty shot would not however be converted as Nottingham's Cameron Pywell hung onto the puck a fraction too long and by then Sam Hewitt's left leg had blocked off the only option left.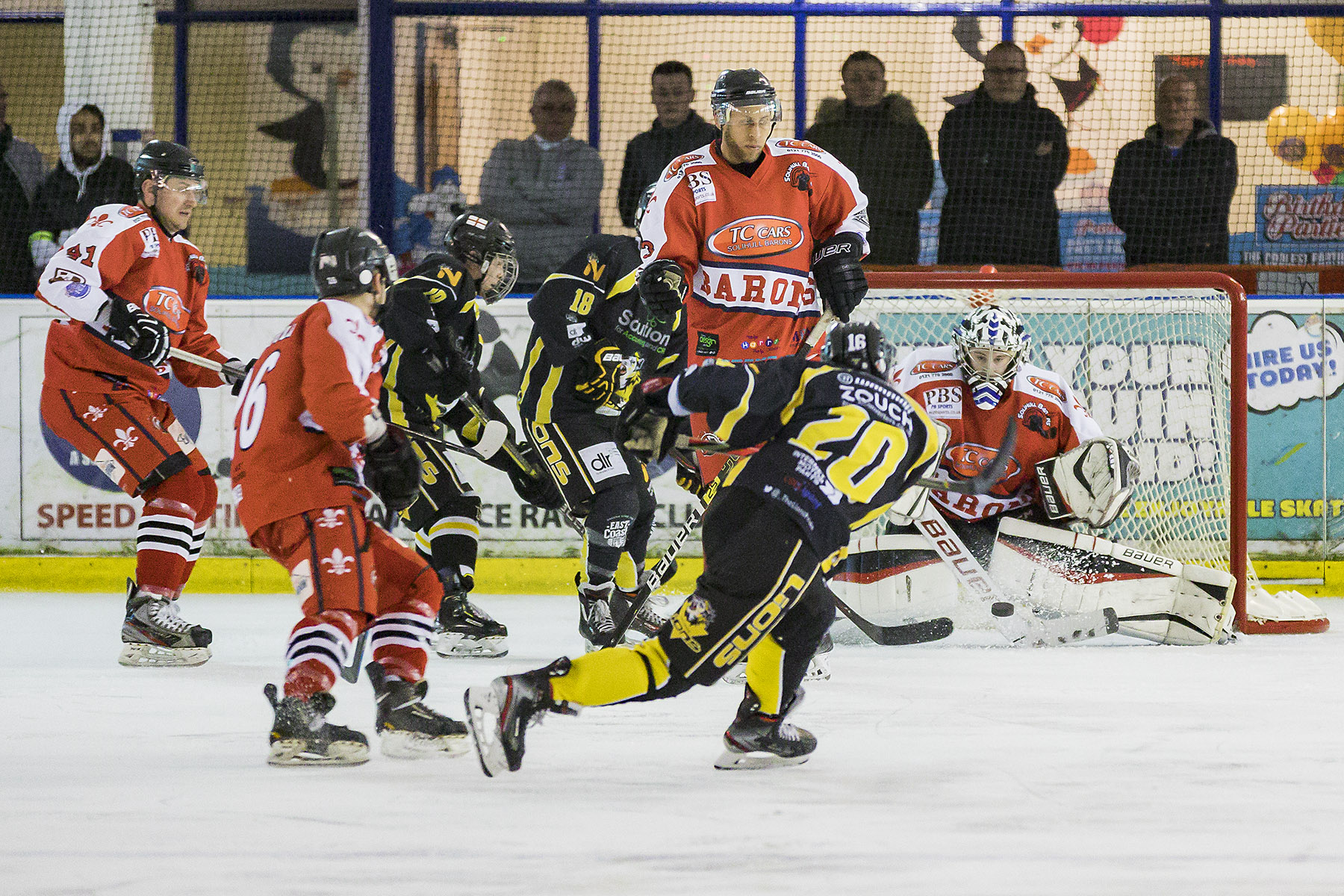 The second period began with the Barons on the powerplay and when the puck came back to Niklas Ottosson on the blue line, the Swede made sure the chance was not wasted, slotting home for Solihull's second. Four minutes in and the Barons had made it three as Adam Brittle netted with a wrap around goal. By mid-period the Barons had started to pick up penalties and a spell of 5 on 3 penalty kill curtailed forward momentum even if the Lions could not capitalise. With three minutes to go Solihull eased out their lead once more, Daniel Mulcahy finding the way through this time.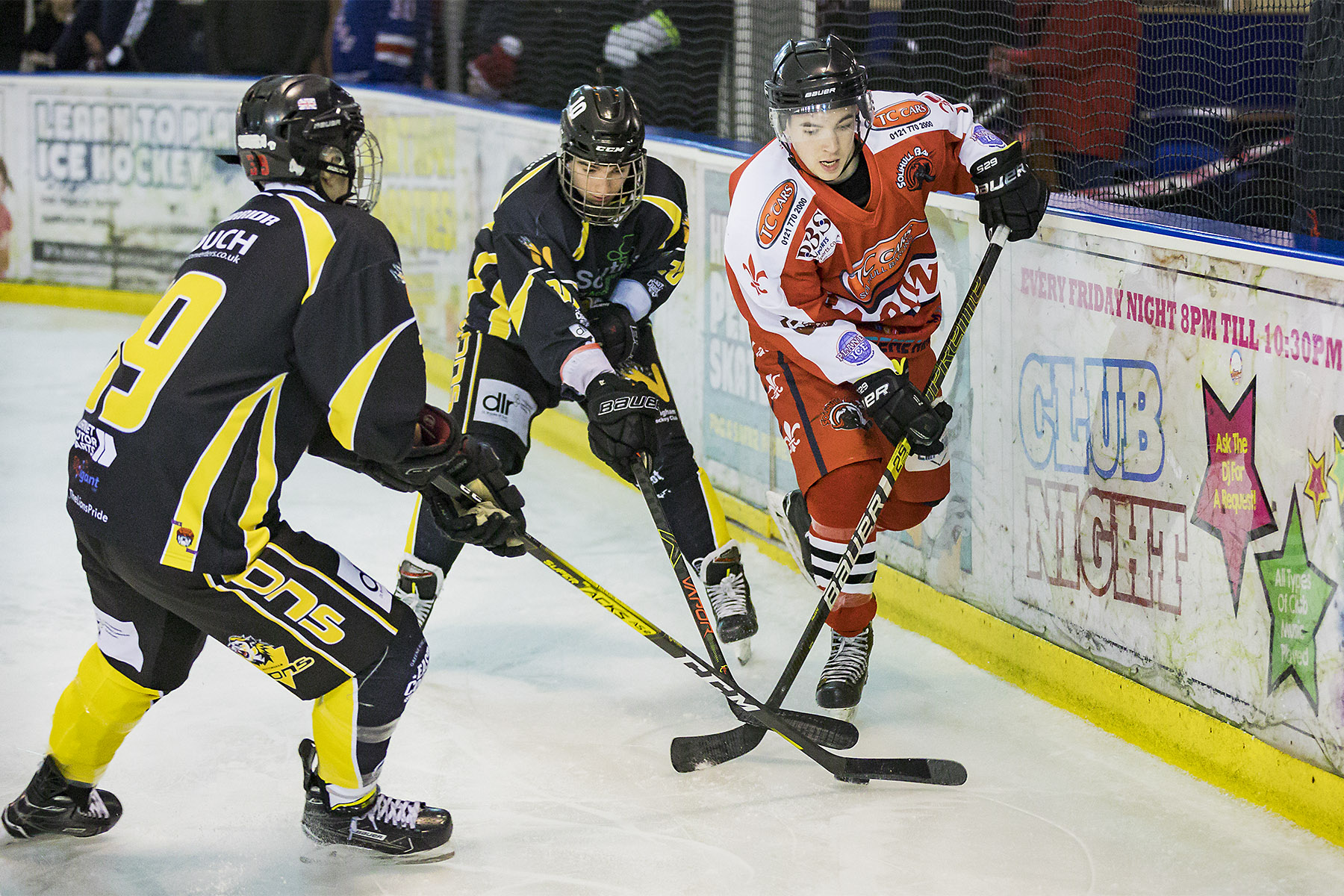 Niklas Ottosson was quick to add to Solihull's tally early in the third. Thirty seconds in, he took the puck through the Lions defence before back handing it the last few inches over the line. A Barons powerplay five minutes in was quickly converted as Daniel Mulcahy tapped in on the back post off an Adam Brittle feed. Tom Soar kept the goals coming, shooting home twelve minutes out from the slot via a Niklas Ottosson pass from behind the net. By period end the inital hesitancy to find the Nottingham net had gone and the Barons were padding their stats – Andy Hayward picking up his first senior goal and Tom Soar rounding things off for the night with goal number nine.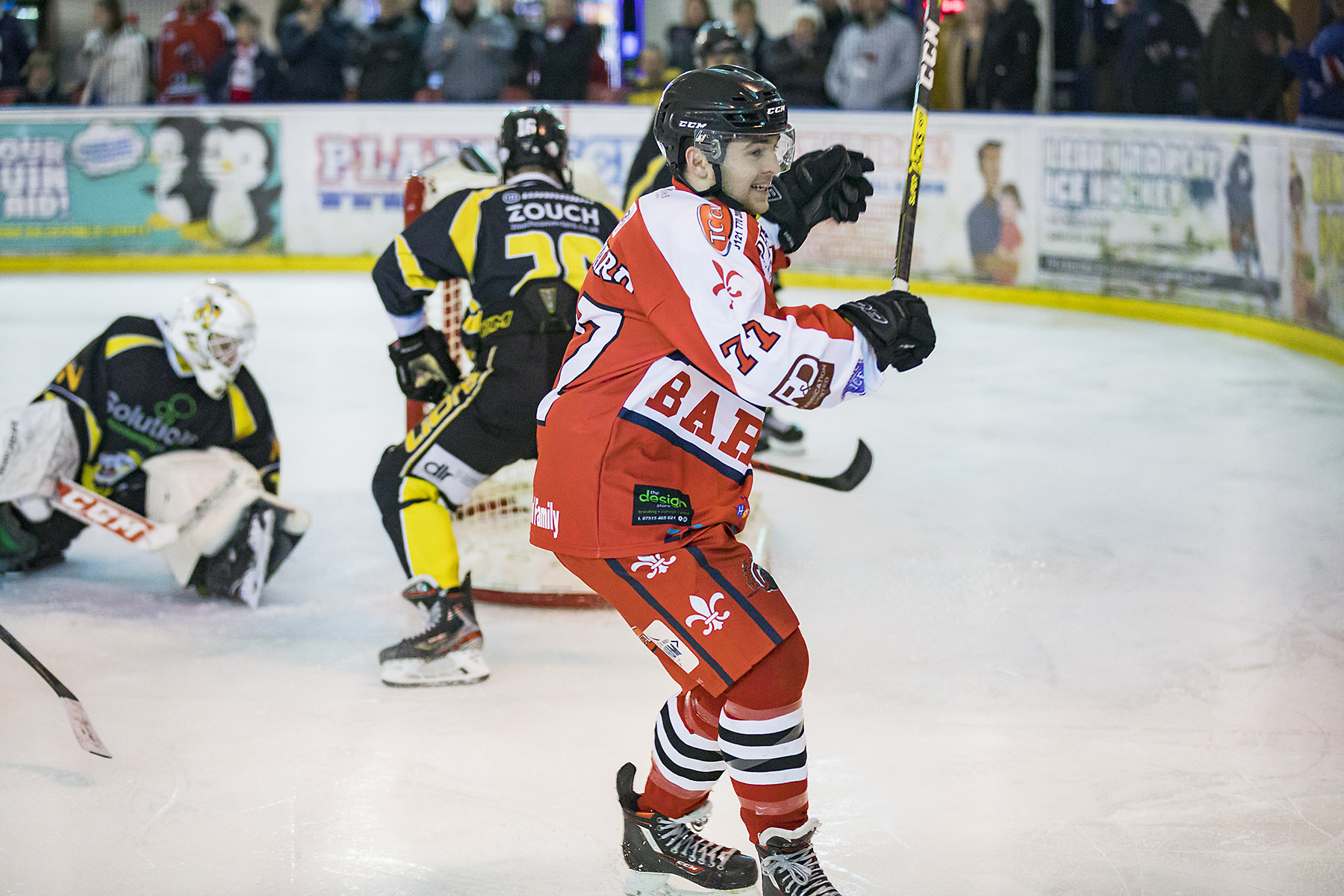 The Barons conclude their league campaign next Sunday, when they travel to the Billingham Stars. The Barons lost out when the two sides met a few weeks ago in Teeside and with the teams likely to meet in the playoff round robins, this game may be as much about psychological positioning for these playoff games as the league points.
Barons Man of the Match, Andy Hayward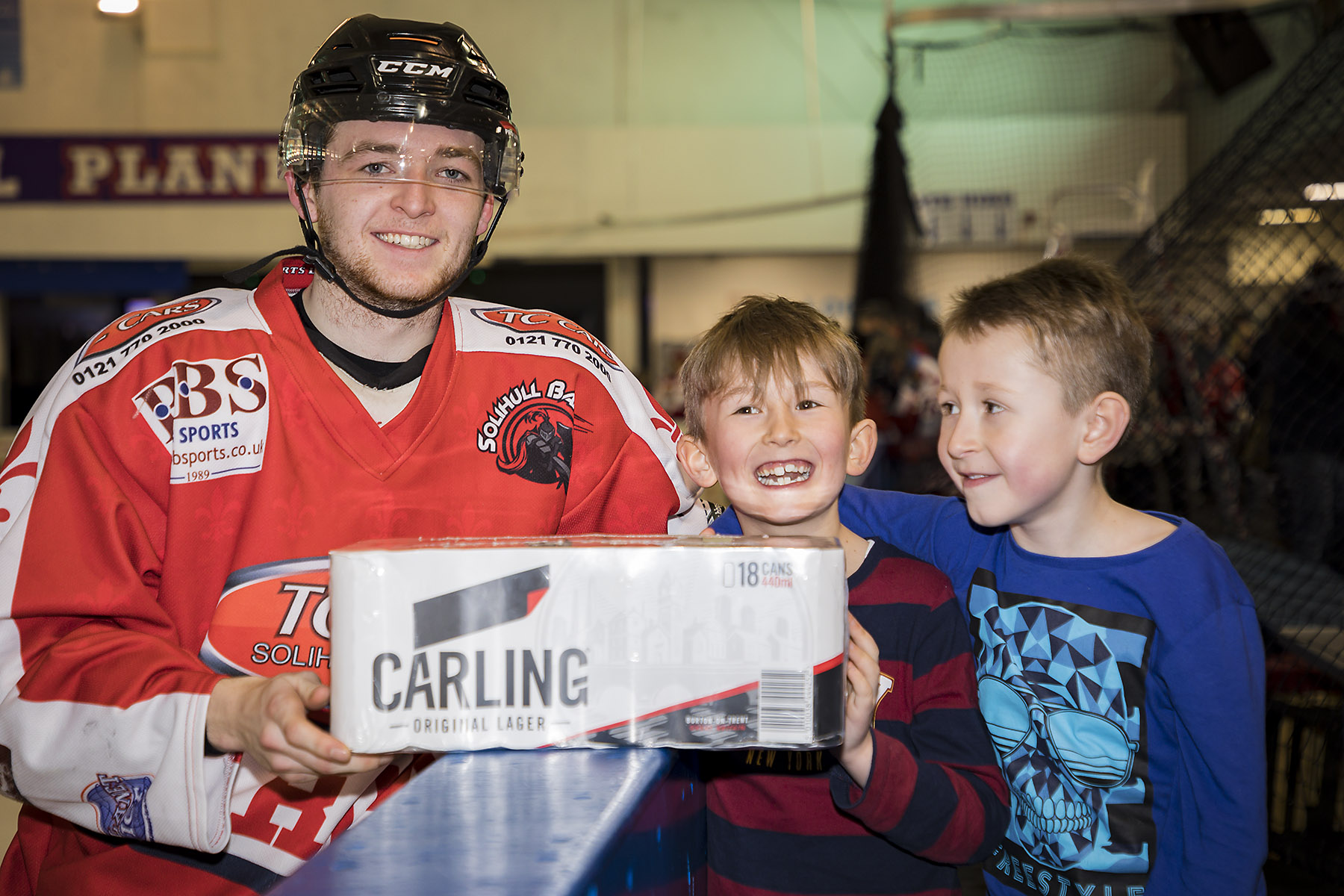 Lions Man of the Match, LUCA SHeldon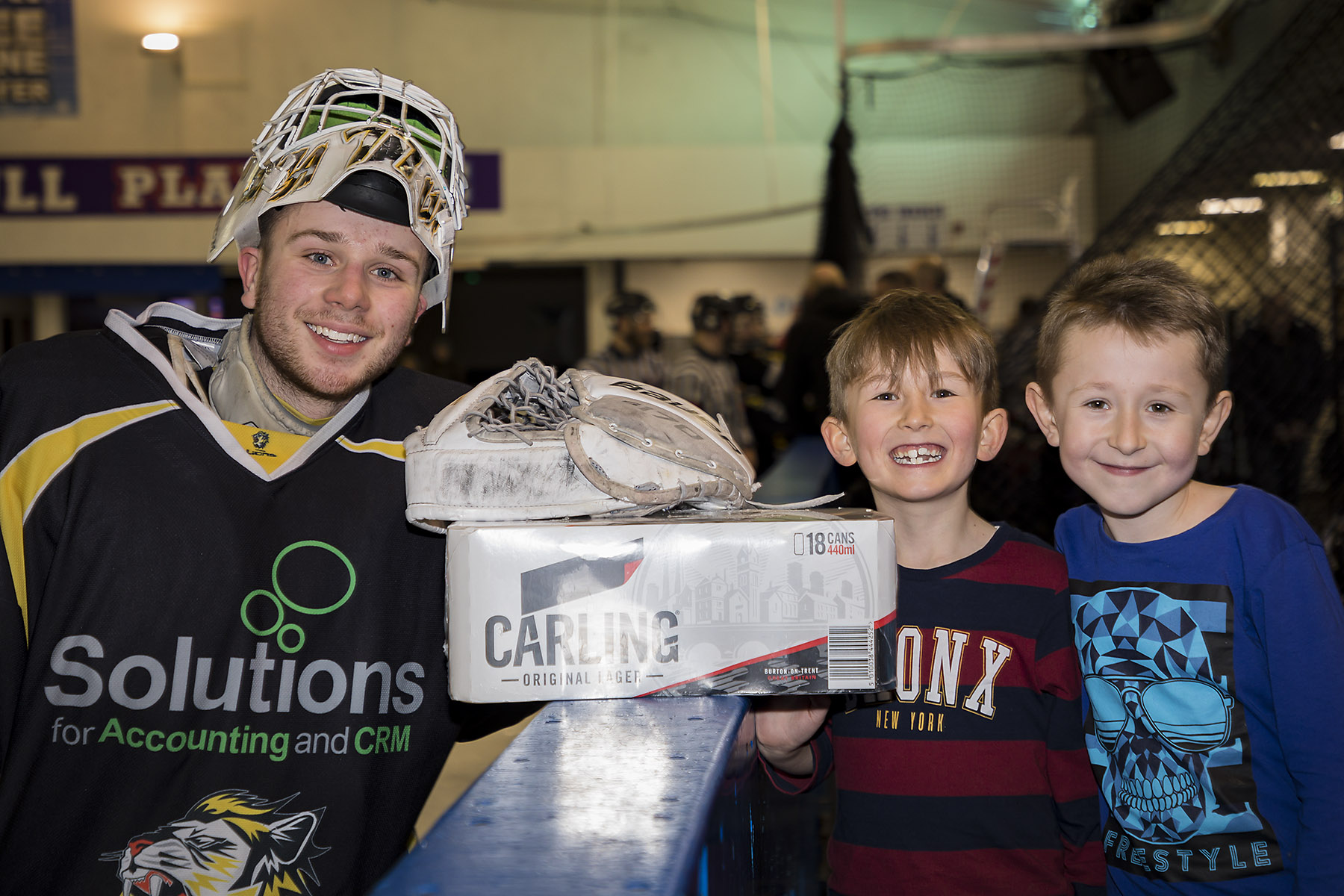 Details
| Date | Time | League | Season |
| --- | --- | --- | --- |
| March 8, 2020 | 5:30 pm | Moralee Division | 2019/20 |
Results
| | | | | |
| --- | --- | --- | --- | --- |
| Solihull Barons | 1 | 3 | 5 | 9 |
| Nottingham Lions | 0 | 0 | 0 | 0 |
Nottingham Lions
| Position | G | A | PIM | SA | GA | SV |
| --- | --- | --- | --- | --- | --- | --- |
| | 0 | 0 | 6 | 54 | 9 | 45 |