5
-
3

Recap
Solway Sharks : 5
TC Cars Solihull Barons : 3
The TC Cars Solihull Barons came away disappointed having gathered no points from a long road trip to Scotland to take on the Solway Sharks on Saturday.
Within three minutes of the puck drop the Sharks had opened the scoring thanks to veteran d-man Kyle Horne supported by Richie Bentham. The Barons battled hard and when Niklas Ottosson intercepted the puck on a Sharks powerplay he made the most of the overcommitted Solway side to score one of his now trademark short handed goals. The score would not remain even for long however as Ben Coughtrie notched a second for the Sharks after twelve minutes, a 2-1 scoreline which held to the period buzzer.
By the second period the Barons began to run into penalty trouble and were duly punished by the clinical Sharks; Joe Coulter and Lewis Houston pushing out Solway's lead to 4-1 by the half hour mark. The Barons countered
late in the second, Adam Brittle finding the net with 30 seconds to go to peg things into reachable territory going into the final 1/3 of the game.
The final period would however be difficult for the Barons, Connor Henderson pushing out the goal buffer for the Sharks once more mid-period before a string of Solihull penalties put paid to any real chance of the Barons staging a recovery against the strong Scottish squad. A late Elliot Farrell goal pegged the scoreline back but it was too late to scramble for a share of the points.
Next weekend is a busy one for Solihull with a pair of home ties. On Saturday the team plays host to the Hull Pirates in another Moralee division tie. This season the sides have only meant once at the Pirates Humberside rink, with the scoreline showing a convincing win for Hull. More conventionally the two sides have been very closely matched however with three of the four clashes last season only being decided after overtime or penalties. Face-off : 5:15pm. On Sunday there will be a somewhat more relaxed affair as we welcome near neighbours the Coventry NIHL Blaze to Hobs Moat for a preseason friendly and after the game you can join the players of both teams on the ice fore a free post-game Christmas skate. Face-off : 6:00pm.

---
Next Home Games – 15th & 16th DECEMBER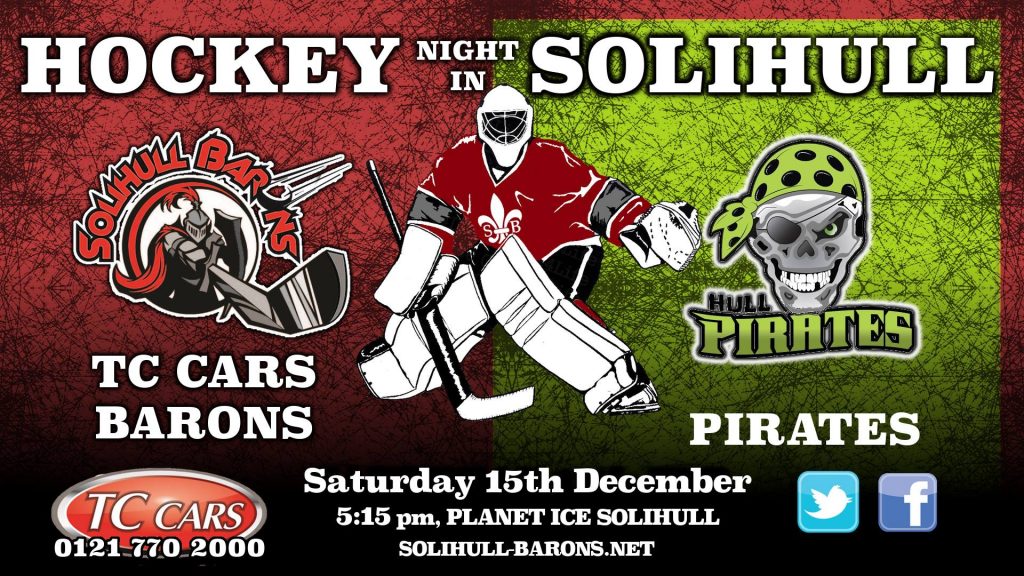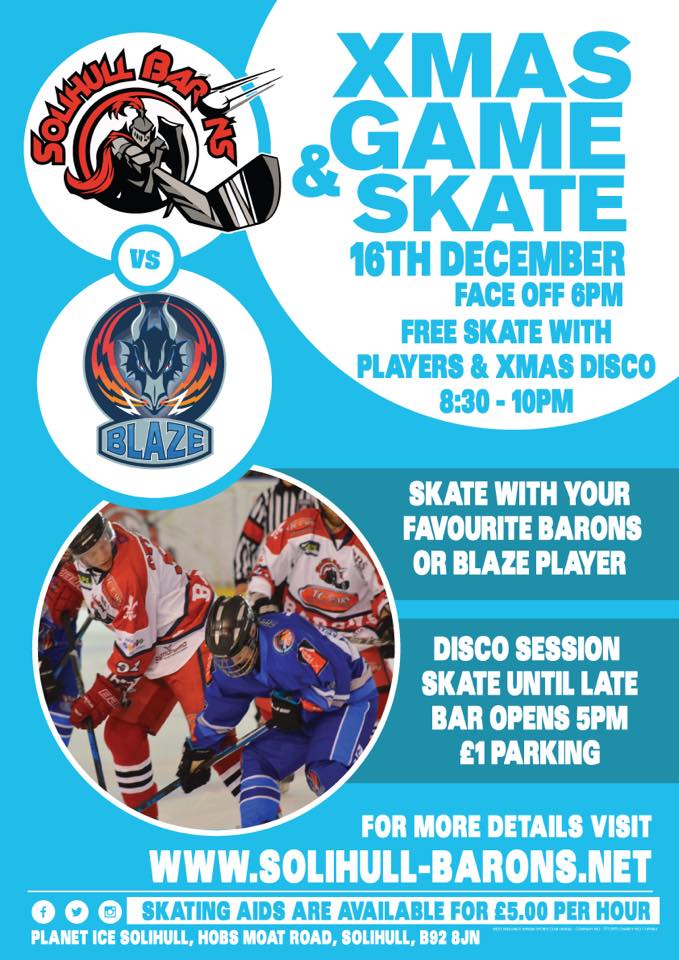 Details
| Date | Time | League | Season |
| --- | --- | --- | --- |
| December 8, 2018 | 7:00 pm | Moralee Division | 2018/19 |
Results
| | | | | |
| --- | --- | --- | --- | --- |
| Solway Sharks | 2 | 2 | 1 | 5 |
| Solihull Barons | 1 | 1 | 1 | 3 |
Solway Sharks
| Position | G | A | PIM | SA | GA | SV |
| --- | --- | --- | --- | --- | --- | --- |
| | 5 | 13 | 4 | 18 | 3 | 15 |