3
-
2

Recap
Sutton Sting : 3
Airport Placements Limited Solihull Barons : 2
Following last weekends narrow victory over the Sutton Sting it was a reversal of fortunes for the Solihull Barons on their visit to Ice Sheffield with the points once more going with home advantage.
Indeed it would be the Sting who would be first to register on the scoresheet, Lloyd Gibson and Charles Thompson combining to open the scoring on the 12th minute.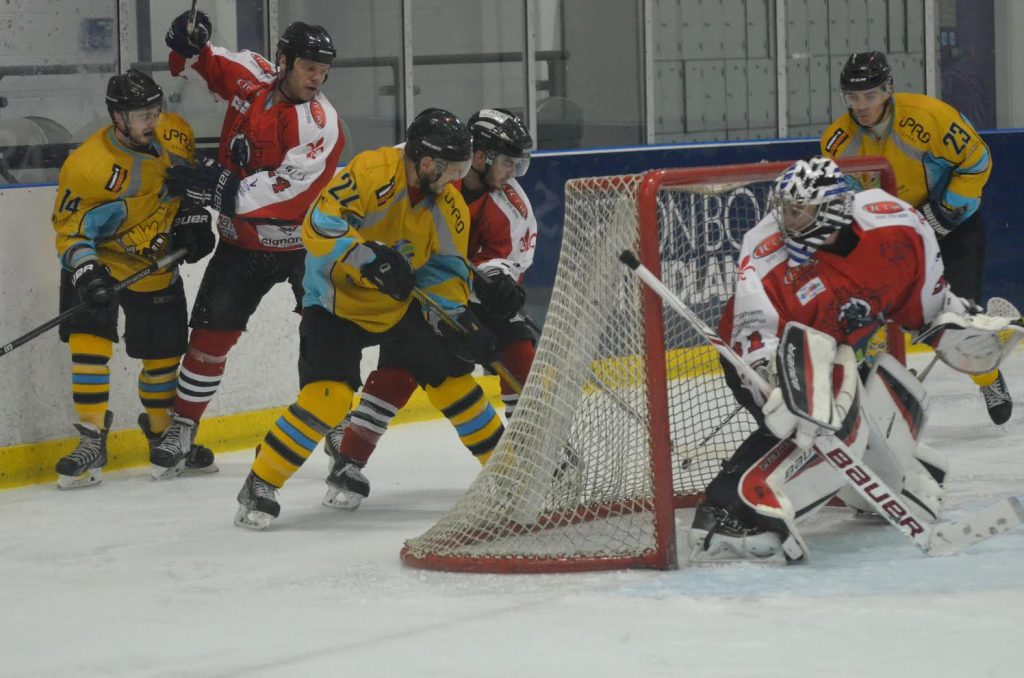 Doyle, Rogers and Hewitt defend the Barons net (J & K Davies)
Despite a somewhat depleted squad on show, the Barons missing much of their first line, Solihull who would battle back to square things up. Rich Slater exploiting gaps around the Sting's impressive net minder Dimitri Zimozdra to see the sides head to the dressing rooms after the first period all even.
By the middle of the second period, the Barons had eked out a narrow lead. Niklas Ottosson returning to the Barons squad after a few games away found normal scoring partner Tom Soar to give the Barons their second goal of the night. Barons penalties would however be fully exploited by the home side, the Sting netting first an equaliser and then the game winning goal within minutes of each other.
Tom Soar gets the Barons second goal of the night (J  & K Davies)
The final period saw the Barons frantically chasing any chances they had to peg back Sutton, outshooting the home side more than 2 to 1 and exchanging their goalie for a forward in the final few minutes, however Zimozdra and rest of the Sting would parry all they offered,
Coming up, the Barons face a weekend off with no games. Solihull returns once more to home ice on the 20th November when league leaders the Solway Sharks come visiting for the first time of the season. Face-off 6:00 pm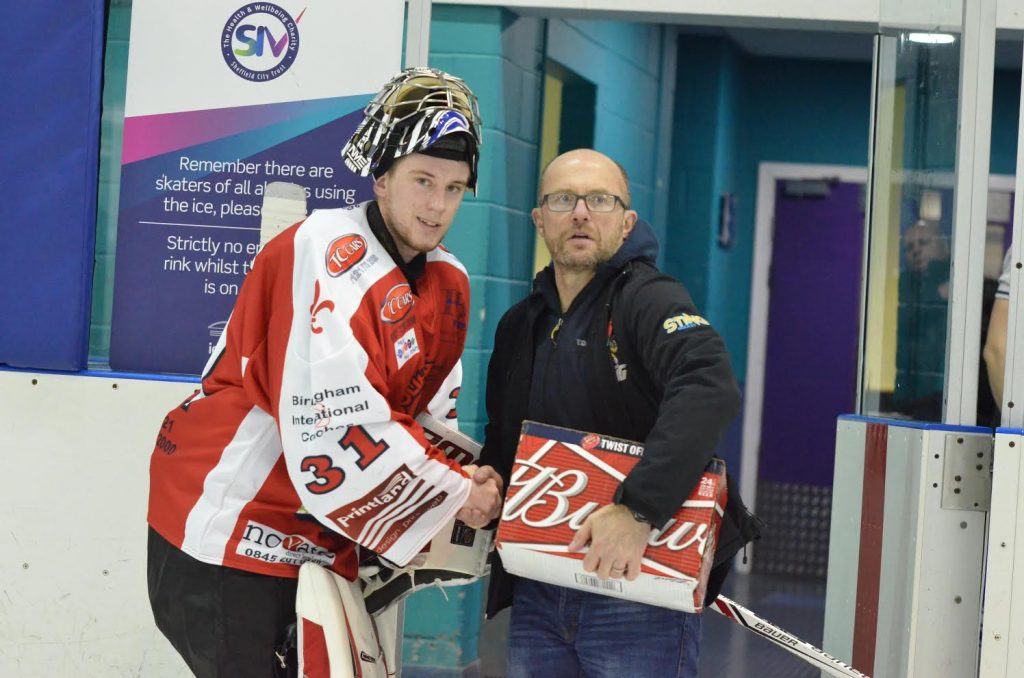 Barons MoM : Sam Hewitt (Keith & Jenny Davies)

---
Elsewhere in the League
Blackburn Hawks 5 : 7 Billingham Stars
Dragons 4 : 11 Whitley Warriors
Telford Tigers 4 : 9 Billingham Stars
Details
| Date | Time | League | Season |
| --- | --- | --- | --- |
| November 6, 2016 | 4:15 pm | Moralee Division | 2016/17 |
Results
| | | | | |
| --- | --- | --- | --- | --- |
| Sutton Sting | 1 | 2 | 0 | 3 |
| Solihull Barons | 1 | 1 | 0 | 2 |
Sutton Sting
| Position | G | A | PIM | SA | GA | SV |
| --- | --- | --- | --- | --- | --- | --- |
| | 2 | 5 | 10 | 56 | 2 | 54 |