4
-
5

Recap
Blackburn Hawks : 4
TC Cars Solihull Barons : 5
The TC Cars Solihull Barons held on for an important two points on Sunday evening against a relentless Blackburn Hawks roster who pushed things to the final buzzer in a closely fought tie.
Solihull were first to score as Luke Brittle converted from an Ed Eaton feed just after three and a half minutes. The home side however were up for a good game and countered on 10 minutes via a James Neil shot with the Hawks Lithuanian import Daneilius Nomanovus firing them into the lead on 12 minutes. Luke Brittle would however find the net for the Barons once more to level things up for Solihull within just over a minute.
The Barons, running with only four regular defencemen were dealt something of a blow late on in the first period when Daniel Harrison headed for an early shower following a high sticks penalty leaving the Barons to cope with an ad hoc defence for the remaining two periods of the tie.
The second period offered the Barons little by way of scoring opportunities but when they arose the Barns forwards made the most of the chances with Andy Whitehouse and Matt Maurice to briefly give Solihull a two goal cushion. By the end of the second this had been cut to a single goal by the the Hawks with Neil again finding a way past Sam Hewitt and into the net.
While Blackburn would bombard Hewitt with rubber for much of the final twenty the Barons would ease out a crucial fifth goal early on to mean that Peta Velusiak's late shot from the Hawks would be little too little a little too late, leaving Solihull with the win and to bring the points back down the M6.
The Barons are on home ice this Saturday when they face old rivals in a 5th v 6th clash. The sides have met twice before this season with the result going the way of the home side in each case, so a closely fought, physical game can be expected.

---
NEXT HOME GAME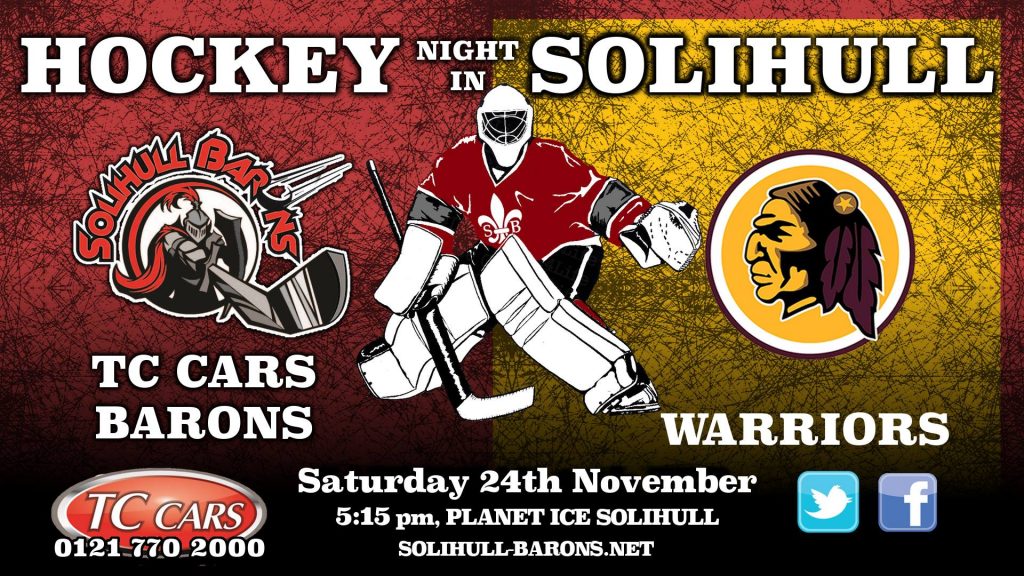 Details
| Date | Time | League | Season |
| --- | --- | --- | --- |
| November 18, 2018 | 5:30 pm | Moralee Division | 2018/19 |
Results
| | | | | |
| --- | --- | --- | --- | --- |
| Blackburn Hawks | 2 | 1 | 1 | 4 |
| TC Cars Solihull Barons | 2 | 2 | 1 | 5 |
Blackburn Hawks
| Position | G | A | PIM | SA | GA | SV |
| --- | --- | --- | --- | --- | --- | --- |
| | 4 | 6 | 24 | 25 | 5 | 20 |